SOUTH Australian grazing and irrigation property, Mt Schanck, has been listed for sale in the open market for the first time ever, and is expected to attract a broad range of buyer interest.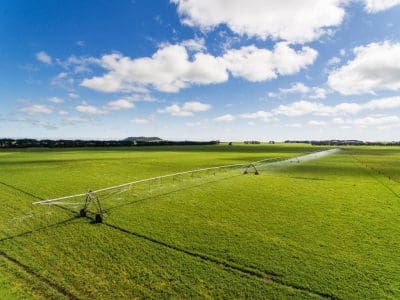 The property, being offered by Melbourne's Evans family, covers 2,870 hectares and includes close to 5,000 megalitres of Ground Water Entitlement.
CBRE's Danny Thomas and Phil Schell have been appointed to conduct the sale via a forthcoming International Expressions of Interest campaign.
Mr Thomas has described Mt Schanck as an iconic investment-scale asset.
Mt Schanck is currently rated at more than 60,000 DSE carrying capacity, with potential to increase significantly as irrigation is further developed.
"It is incredibly rare for landholdings of this scale that have such a unique position in the history of Australian agriculture to be presented to the market, and to that end Mt Schanck is now being offered publicly for sale for the first time ever, having been owned by only three families," Mr Thomas said.
Mt Schanck was purchased in 2005 by the late Ron Evans AM, a former chairman of the AFL, president of the Essendon Football Club and managing director of Spotless Group.
In a private sale, the vendor in that transaction was the Clarke family, who had owned Mt Schanck for more than 140 years after purchasing the property from the Arthur brothers of Van Diemans Land in 1861.
Located near the regional and livestock-selling centre of Mount Gambier in the far south-east of South Australia, Mt Schanck is also close to Victorian centres like the port of Portland, the large township of Hamilton, and livestock processing facilities at Warrnambool.
Approximately 700ha of Mt Schanck has been developed to centre pivot irrigation, which has been used for lucerne-based pastures, fodder cropping and hay production, or leased out on short-term contracts for growers of potatoes and other cash crops.
Improvements include a stately 1860s-built homestead in manicured gardens, numerous high-quality staff residences, an historic six-stand shearing shed, shearer's quarters and near-new Pratley sheep and cattle yards.
The property is being offered for sale on a walk-in walk-out basis which includes beef cattle, sheep, and plant and equipment.
Livestock includes more than 2,000 Angus cows with calves featuring Rennylea, TeMania and Landfall bloodlines and heifer replacements, and around 2,500 composite ewes with lambs at foot.
This could include conversion to alternative uses such as irrigated cropping or dairy.