TRIALS throughout south eastern Australia in 2018-2019 that looked into the impact of Russian Wheat Aphid (RWA) on crop yields found the risk of the pests invading crops in those dry years was very low and the use of seed treatments to counter the threat was not justified.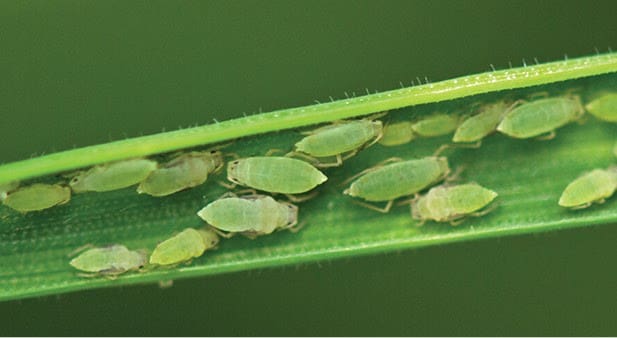 The research covered 28 field sites in South Australia, Victoria, New South Wales and Tasmania where crops were exposed to natural infestation of RWA, and 15 trial sites where RWA was introduced.
Presenting the findings at the GRDC Grains Research Update in Wagga Wagga, South Australian Research and Development Institute and University of Adelaide entomologist Dr Maarten van Helden said the trials, which were conducted over two very dry years, showed no significant RWA infestation occurring in any of the non-inoculated crops.
In the trials where RWA was introduced, the impact of RWA on yield showed large regional and varietal differences. In some, but not all, RWA populations reached population levels that did result in yield loss.
Green bridge influence
The work confirmed that the presence of a 'green bridge' of vegetation between winter crops is a key factor in determining the risk of early infestation by the pests.
Field surveys during the spring to autumn periods demonstrated RWA detections being particularly common with high populations during spring in the warm dry grain growing regions of northern Victoria, southern NSW and SA.
During the summer, growing crops and green vegetation from most grass species disappeared and RWA populations declined.
Apart from volunteer cereals such as wheat and barley, the majority of RWA detections were on five grass genera: barley grass, Bromus sp., phalaris, ryegrass and wild oat.
The research found that early rainfall in late summer/autumn, 2-3 months before sowing, could cause the RWA population to build up on grasses and cereal regrowth, potentially exacerbating early crop invasions.
A 'wetter' year with a higher green bridge, or if immigration of aphids occurs at a higher level for some other reason, might increase aphid colonisation, but will not automatically result in higher impact of RWA.
While the two years of the study were very dry and generally unfavourable for RWA survival over summer, anecdotal observations in 2020 and in earlier years suggest that population levels will be very different – but not necessarily more damaging – with different rainfall patterns.
RWA was first identified in South Australia in 2016. This cereal pest is now present in cropping areas of SA, Victoria, Tasmania, New South Wales and Western Australia.
Its geographical distribution is expected to increase further into northern NSW and Queensland.
Grain Central: Get our free cropping news straight to your inbox – Click here