WEATHER forecasters have eased back on their earlier predictions of a wet June, shifting the outlook to a drier month, but still confident of above average rains for most of the cropping regions in July.
Addressing a Bureau of Meteorology (BOM) webinar, senior climatologist, Jonathan Pollock, said there had been big changes in the eastern tropical Indian Ocean in the last couple of weeks which had prompted the outlook to be revised.
"What was looking like a wet winter for a lot of Australia is now looking more neutral. We are still expecting some above average rainfall to come, but it looks like it is going to come later in the season now," he said.
"There is not much of a wet signal for June – in fact June is likely to be drier for a lot of the country – but by the time we get into July we are starting to see that wet signal appear again with increased chances of above average rainfall for much of southern Australia.
"It looks like the wet signal that was on the outlook last week was being driven mostly by the Indian Ocean. It has moved off and now we have a neutral outlook for a lot of the country.
"But for parts of south western Victoria and northern Tasmania it is a drier outlook. A lot of that signal is coming from the influence of the Southern Annular Mode (SAM)."
Mr Pollock said the outlook for June (Figure 1) was showing it was likely to be drier than average over most of southern and northern Western Australia, along with most of the Northern Territory, South Australia and Victoria, as well as parts of New South Wales, Tasmania and the northern tip of Queensland.
He said July was likely to be wetter than average across most of southern Australia, but most of Victoria and Tasmania and the NSW coast had roughly equal chances of being wetter or drier in July.
Mr Pollock said the outlook for winter (Figure 2) was showing that overall it was likely to be wetter in patches across WA, north eastern SA, far southern Queensland, and western and north eastern NSW.
At the same time, the northern tip of Queensland, some southern parts of Victoria and SA, along with much of Tasmania, are likely to be drier than average this winter.
For the rest of the country there is no strong push either way.
Water storage levels rise
BOM senor climatologist, Robyn Duell, said in absolute terms, water storage levels across Australia were still low with most below 50 per cent, except in Tasmania (Figure 3).
Storages in the north and west of the continent are below the levels of the same time last year, while levels were now above in the south east.
"In the north that reflects the low rainfall experienced this year, and in the south west of Western Australia it is the start of the infill season. By contrast, most of the storages in the south east of Australia are all now at higher levels than they were at this time last year," Ms Duell said.
"This time last year some of these levels were incredibly low. In the northern Murray Darling Basin in 2019 levels dropped below 8 per cent."
Ms Duell said the wet start to the year in the east and south east of Australia had seen some significant inflows into water storages in those regions.
"But in absolute terms they are still relatively low. There have been very dry and drought conditions in eastern Australia in the last three years," she said.
"In the year-to-date we have seen a lot of rainfall across large parts of the country, more than we usually would. But, in the context of the last three years, we still see a lot less rainfall, very much below average, falling across that period.
"For the water storages to be replenished after three long dry years it is expected it will take several seasons of average to above average rainfall to see storage levels return."
…………………………………………………………………………………………………………………………………………..
Climate data app
THE Australian CliMate app, co-developed by the University of Southern Queensland (USQ), is proving popular with farmers, helping with their decision-making by providing localised climate data direct to the home computer or into the paddock via smart phone.
Associate Professor David Freebairn, who headed the app's development, said it had been accessed by users more than 8000 times each month and had a total 20,000 registrations since it was first released in 2013.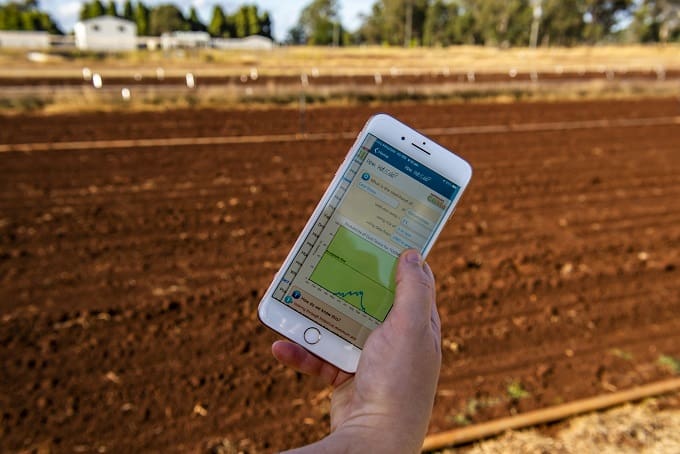 "It uses question-based logic to explore historical rainfall, temperature and solar radiation, as well as some forecasting indicators," Associate Professor Freebairn said.
"A farmer can directly ask about soil moisture in their area, and get an answer that puts the current season in perspective with past levels.
"For example, a typical heavy clay soil at Goondiwindi would be about half full now if the soil profile was nearly empty last November. The rainfalls at the beginning of February were well stored even though there has not been much since."
The app has been adopted throughout major agricultural areas of Australia, in particular grains and livestock production and by agri-businesses.
USQ agricultural scientist Dr Ann Starasts said the platform was able to meet the needs of various industry stakeholders.
"Grain growers and horticulturalists are using the app to identify the range of possible climate risks for their season and compare these for different sowing dates, crops, locations and varieties," she said.
"Livestock producers are using the app to identify the range of possible forage scenarios and then plan their livestock numbers and paddock management options.
"This easy-to-access data has been a major step up for the farming industry to aid communications."
Visit: https://climateapp.net.au
Grain Central: Get our free daily cropping news straight to your inbox – Click here