THE Bureau of Meteorology has revised its ENSO Outlook to "El Niño Alert" meaning the chances of an El Nino forming during Spring is now 70 per cent, or roughly three times the normal risk.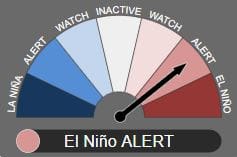 Recent patterns in the tropical Pacific Ocean and in the overlying atmosphere indicate the early stages of an El Niño event could be underway.
An El Niño in Spring typically means below average rainfall across eastern and northern Australia and above-average temperatures in the south east. In Summer those same weather patterns usually contract to northern Queensland.
Bureau of Meteorology manager of long-range forecasting Dr Andrew Watkins said if these conditions were to occur, the chances of drought-affected areas in eastern Australia making a recovery over the coming months would unfortunately be lowered.
"Like everyone in the Australian community, the Bureau of Meteorology is hoping regions being affected by drought will recover soon. However, if an El Niño were to occur, we're more likely to see drier and warmer than average conditions," Dr Watkins said.
During an El Niño event, warmer waters gather in the eastern Pacific Ocean with cooler waters closer to Australia. This typically means less rainfall over the Australian continent. An El Niño event typically ends around Autumn.
The Bureau is also closely monitoring developments in the Indian Ocean where a positive Indian Ocean Dipole (IOD) event is being predicted by a number of international models.
"A positive IOD event would typically mean more widespread below average rainfall. However, if a positive IOD event were to develop we would expect to see it disappear by the end of Spring with the onset of the northern monsoon."
Taskforce to tackle drought support
Meanwhile, a drought Finance Taskforce bringing banks, government and farmer representatives together will be a vital forum for taking the pulse of rural communities managing drought, National Farmers Federation Fiona Simson said today.
Federal Treasurer Josh Frydenberg and Minister for Agriculture and Water Resources David Littleproud said the Liberal-National Government, the NFF and banks are set to come together through the new Drought Finance Taskforce to leverage resources and share insights on ways in which the government and banks could further support drought-affected farmers and rural and regional small businesses.
The taskforce will include the treasurer who will serve as chair, Mr Littleproud as deputy chair, drought special envoy Barnaby Joyce, regional Queensland Member of Parliament John McVeigh, a senior NFF representative and senior representatives from ANZ, the Commonwealth Bank, the National Australia Bank, Rabobank and Westpac.
"Importantly, the taskforce will consider and respond to the impact of the drought on local small businesses as well as farmers because many local small businesses depend on farming activities," a joint Frydenberg-Littleproud statement said.
Ms Simson said good drought policy is about building farmer resilience by creating the risk management tools needed at different stages of the agricultural business cycle, including drought.
"The NFF sees the taskforce as playing an important role in assessing the effectiveness of existing risk management tools, identifying improvements and bringing about change."
Ms Simson said banks provided critical services to help farmers and rural and regional businesses manage the uneven cash flow of agricultural production cycles.
"Banks are also a critical source of investment that help farm businesses grow.
"Bringing banks, the Government and farmer representatives together on a regular basis will provide a vital forum for taking the pulse of rural communities managing drought," she said.
The taskforce will support real-time information flows on the financial health of drought impacted areas, and enable rapid responses to critical areas of need, the NFF said.
The government said the Drought Finance Taskforce will:
leverage government, business and industry resources in rural and regional communities to further determine the impact that the drought has had or is having on farmers and local small businesses;
establish mechanisms to share insights in a timely manner; and
advise the Government, bank CEOs and the NFF on drought impacts as well as further measures that could help alleviate the impact on farmers and local small businesses.
The establishment of the taskforce follows the drought roundtable held by Mr Littleproud in early July at which banks and farm groups discussed financial literacy issues and farm management deposits.
The government said it continued to prioritise regional and rural communities affected by the drought, as demonstrated by the expansion of the $1.8 billion Drought Assistance Package.
The taskforce is an additional way for government, business and industry to work together and ensure that they are not only receiving the most up-to-date information, but also able to respond quickly, so farmers and local small businesses receive the additional support they need, as soon as possible, the Frydenberg-Littleproud statement said.
Grain Central: Get our free daily cropping news straight to your inbox – Click here