WHILE the tropical Pacific remains neutral in terms of the El Niño-Southern Oscillation (ENSO), there are signs El Niño may develop in 2017.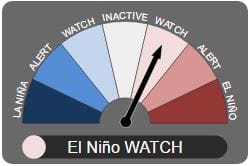 The Bureau of Meteorology's ENSO Outlook status is at El Niño WATCH which means there is around a 50 per cent chance of El Niño developing in 2017, which is approximately twice the normal likelihood.
Sea surface temperatures in the tropical eastern Pacific Ocean have warmed, with the warmth progressively spreading westwards since the start of the year.
Additionally, waters in the eastern Pacific subsurface have also warmed over the past few weeks.
Waters near the South American coastline near Peru remain warmer than average, which has contributed towards heavy rains and flooding in parts of South America.
The pattern of very warm ocean conditions in the far eastern Pacific but neutral conditions overall is unusual.
International climate models suggest the steady warming of the tropical Pacific Ocean is likely to continue in the coming months.
Seven of eight models indicate that sea surface temperatures will exceed El Niño thresholds during the second half of 2017.
However, some caution should be exercised as models have lower accuracy at this time of year, and there remains a significant spread in possible forecast outcomes.
El Niño is often, but not always, associated with below average winter–spring rainfall over eastern Australia and warmer than average winter–spring maximum temperatures over the southern half of Australia.
For example, of the 27 El Niño events since 1900, 18 have resulted in widespread dry conditions for Australia.
The Indian Ocean Dipole (IOD) has little influence on Australia from December to April. Current outlooks suggest the IOD is likely to remain neutral at least through to the end of winter.
Source: Bureau of Meteorology