The 'first-look' Spring climate outlook issued by the Bureau of Meteorology today indicates a drier than average season is likely for most of mainland Australia.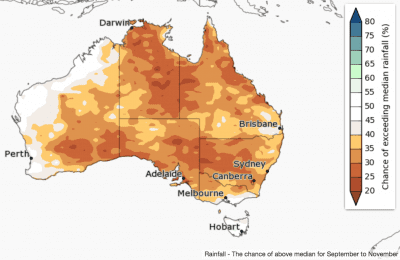 The likelihood of drier conditions is stronger in October compared with September. September is likely to be drier across the north and small scattered areas of the south, while October is likely to be drier across most of the mainland.
Historical outlook accuracy for spring is moderate to high for most of the country, but low along the NT-WA border, and the west coast of WA.
Spring maximum temperatures are likely to be warmer than average, except in the southeast, which has a 50-50 chance of warmer or cooler than average days.
Spring nights are likely to be warmer across northern and western Australia. With more cloud-free days and nights expected, there remains an increased risk of spring frost in susceptible areas.
Climate influences include a positive Indian Ocean Dipole (IOD) and an ENSO-neutral tropical Pacific Ocean.
For more details on the climate outlook released today click here