THE Bureau of Meteorology's rainfall outlook for summer, issued today, shows north east NSW and regions surrounding the Gulf of Carpentaria in northern Australia are likely to be drier than average.
Across the rest of the country, there is no strong shift towards a wetter or drier summer.
The Bureau says summer daytime and overnight temperatures are likely to be warmer than average for most of the eastern two-thirds of Australia.
Australia's major climate drivers are neutral, but a La Niña WATCH remains in place due to recent cooling in the eastern tropical Pacific.
Sea surface temperature patterns in the western Pacific and eastern Indian Ocean are not typical of La Niña, and are counteracting its normally wet signal.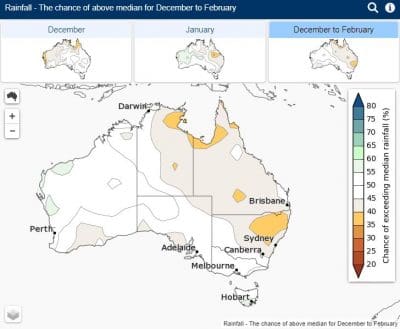 Source: BOM