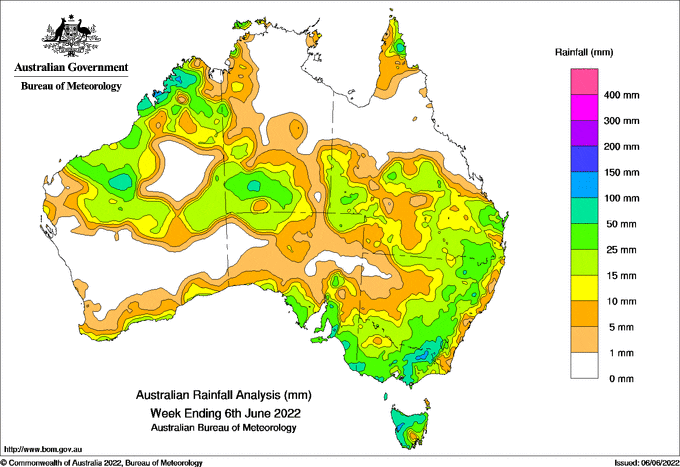 A SUCCESSION of cold fronts during the week resulted in widespread rainfall across south-eastern Australia, with weekly totals of 25-50 millimetres in many areas.
Weekly totals of 50-100mm were recorded in alpine areas, northern and western Tasmania and some western-facing coastal areas of South Australia and Victoria, and alpine areas recorded over 50 centimetres of snow in places during the week.
Early in the week, a north-west cloud band resulted in falls of 25-50mm in the Pilbara and central Australia, with isolated high totals on the Kimberley coast.
Later in the week, an inland trough brought 25-50mm of rain to inland areas of north-eastern New South Wales and south-eastern Queensland.
At the end of the week, a strong cold front crossed over Adelaide and the Mount Lofty region bringing heavy rainfall and some flash flooding, with totals of 50-90mm recorded in the Adelaide Hills in the 24 hours to 9am June 5.
In the 24 hours to 9am June 6, totals of 60-80mm were recorded in north-eastern Victoria, with minor flood warnings issued for the Kings River.
The highest total in the week to 9am June 6 was 145.2mm at Ashton and the highest daily total was 89mm at Uraidla on June 5, both in the Adelaide Hills.