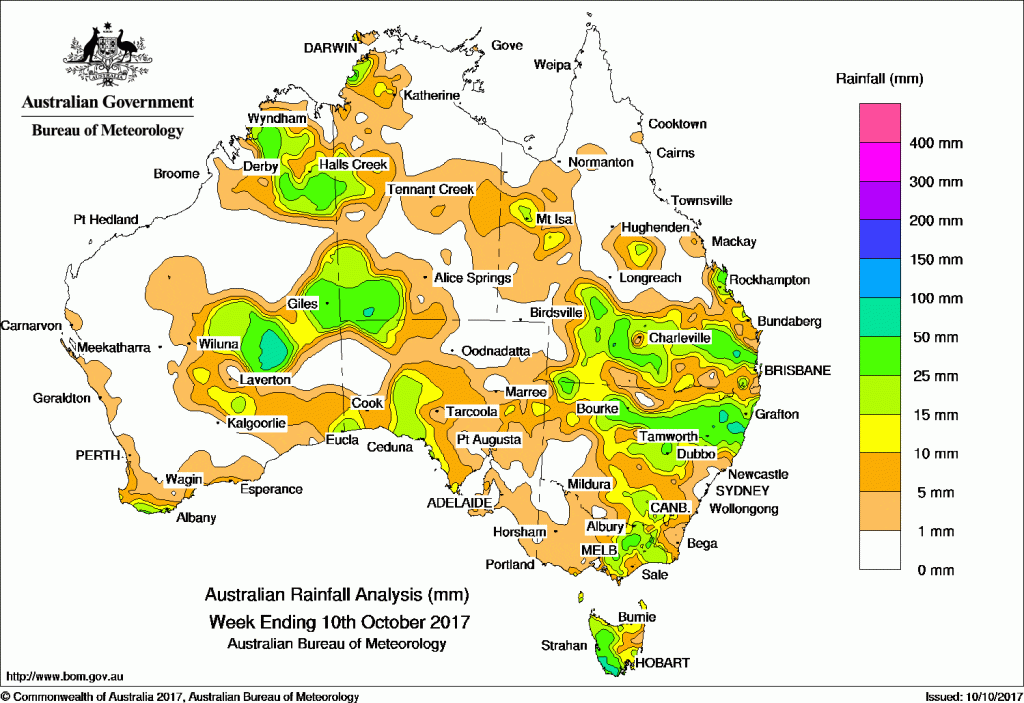 For today's 14-day rainfall outlook – scroll to bottom of article
Surface troughs generated thunderstorms and showers, with moderate falls across northwest, central and eastern Australia. A low pressure system produced moderate falls in western Tasmania and southern Victoria.
Past seven days: At the start of the week, showers and thunderstorms lingered in southeast Queensland as a surface trough and cloudband moved away from the eastern seaboard into the Tasman Sea.
An upper-level disturbance connected to a low pressure system in the Bight, and generated a cloudband that extended from Western Australia into South Australia. Showers and thunderstorm activity produced moderate falls in the southern interior of Western Australia and parts of central Australia, and light falls across parts of South Australia. Around the same time, isolated thunderstorms formed along a surface trough located across northern Australia, with moderate falls about the Darwin–Daly District in the Northern Territory.
By the middle of the week, a low pressure system approached Tasmania from the Bight, then tracked eastwards across the State, while the associated cloudband and surface trough moved through the Victoria. Moderate falls were recorded in western Tasmania and southeastern Victoria
In the last part of the week, a broad area of low pressure and an upper level disturbance resulted in shower and thunderstorm activity over the north of Western Australia, southern and western parts of the Northern Territory, southeastern South Australia, New South Wales and Victoria. A surface trough over southeastern Queensland generated mid-level cloud with embedded thunderstorms, and moderate falls about southern and southeastern Queensland and northeastern New South Wales.
A cold front crossed Victoria and New South Wales rapidly at the end of the week, with moderate falls recorded across much of New South Wales and eastern Victoria.
Rainfall totals exceeding 50 mm were recorded in isolated spots in the Kimberley of Western Australia, pockets of southeastern and central Queensland, far southwestern Tasmania, and northeastern New South Wales. The highest weekly total was 79 mm at Lady Elliott Island in central Queensland.
Rainfall totals between 10 mm and 50 mm were recorded in northern, the central interior and southern coasts of Western Australia; western parts of the Northern Territory including the Darwin–Daly district; the agricultural districts and southern coast of South Australia; eastern Victoria, and in the north and west of Tasmania. Similar totals were recorded in northern and central New South Wales, and parts of western, southern and southeastern Queensland.
Little or no rainfall was recorded in Pilbara, Gascoyne and along the west coast of Western Australia; the eastern half of the Northern Territory; northern Queensland, parts of southwestern New South Wales, western Victoria and patches of the north of South Australia.
Highest weekly totals
New South Wales and Australian Capital Territory
74 mm Glen Innes Airport AWS
73 mm Kalang
64 mm Kingstown Post Office
Victoria
55 mm Mount Baw Baw
42 mm Ovens River at Eurobin
39 mm Falls Creek (Rocky Valley)
Queensland
79 mm Lady Elliot Island
68 mm Landsborough
67 mm Samuel Hill Aero
Western Australia
70 mm Larrawa Airfield
61 mm Ruby Plains
47 mm Theda
South Australia
24 mm Penong
17 mm Streaky Bay
Tarcoola (Commonwealth Hill)
Ceduna AMO
Tasmania
78 mm Mount Read
48 mm Hartz Mountain (Keoghs Pimple)
45 mm Cape Bruny Lighthouse
Scotts Peak Dam
Northern Territory
52 mm Labelle Downs
50 mm Humpty Doo Collard Road
40 mm Yulara Airport
More weekly rainfall totals:
Source: BOM