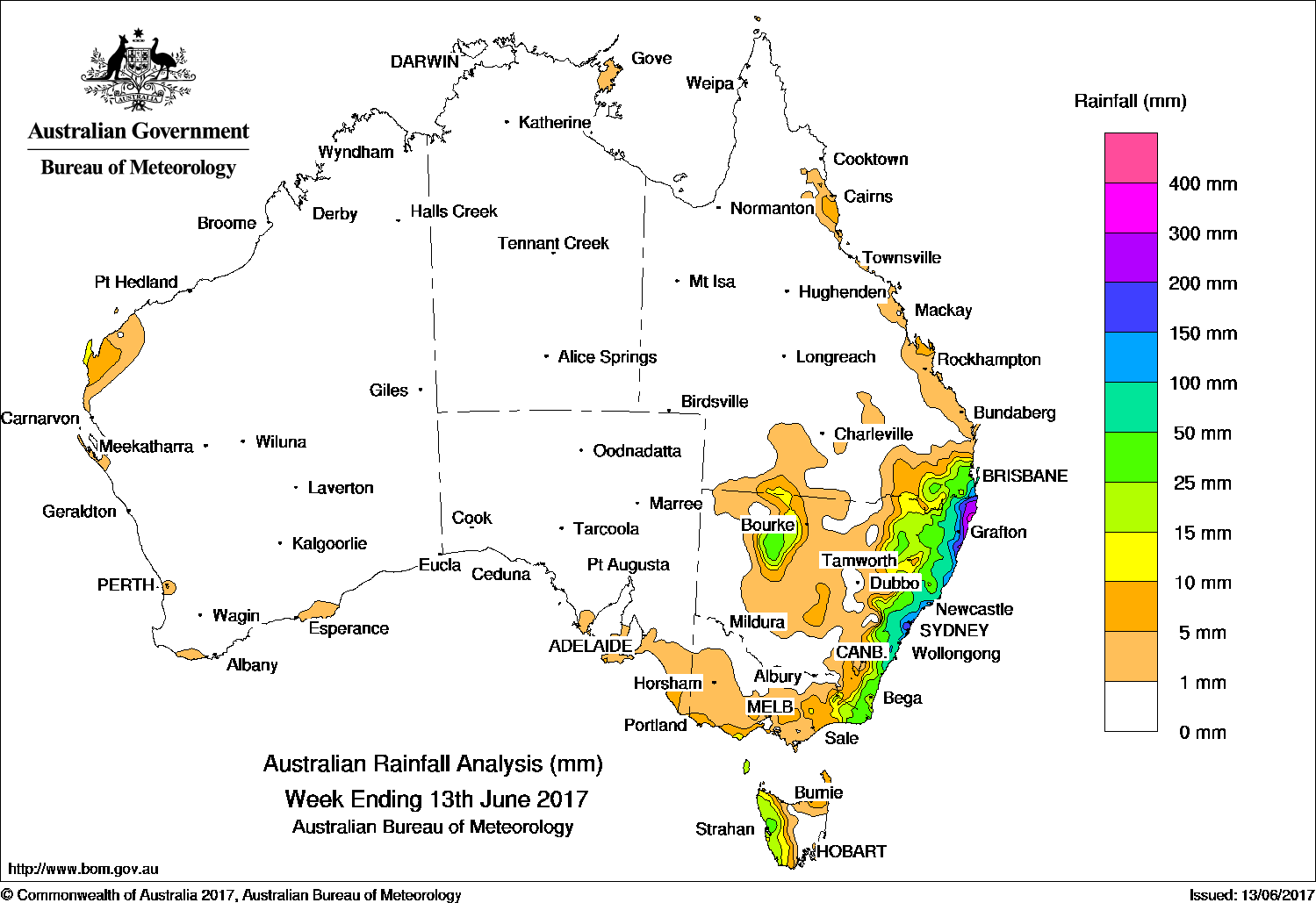 For today's 14-day rainfall outlook – scroll to bottom of article
A low produced moderate rainfall between central coast New South Wales and far eastern Victoria at the beginning of the week and rainfall in northeast New South Wales and southeast Queensland throughout the remainder of the week.
Past seven days: At the start of the week, a low pressure system developed off the coast of New South Wales and moved slowly northeast, resulting in moderate rainfall from East Gippsland in Victoria to the central coast of New South Wales.
A coastal trough, associated with the low, lingered along the central and north coast in New South Wales for the remainder of the week. The trough produced continued rainfall over central and northern coastal areas in New South Wales. Locally heavy falls and flash flooding was recorded in the Northern Rivers district. Late in the week rainfall extended to far southeastern Queensland and continued over the New South Wales north coast.
Towards the end of the week, an inland trough developed over northwestern New South Wales, producing some rainfall in the Upper Western region. A trough and associated low pressure system off the west coast of Western Australia produced light rainfall on the west Pilbara coast.
During the week, two weak cold fronts crossed Tasmania and brought mostly light rainfall to western Tasmania and southern Victoria.
Rainfall totals between 100 mm and 200 mm were recorded along the central coast in New South Wales, with totals in excess of 200 mm in the Mid North Coast and Northern Rivers districts. The highest weekly rainfall total of 376 mm was recorded at Woodburn on the banks of the Richmond River in New South Wales. The tip of the Southeast Coast district in Queensland also recorded between 100 mm and 200 mm rainfall.
Rainfall totals between 50 mm and 100 mm surrounded higher falls along the east coast, and extended into the central tablelands in New South Wales.
Rainfall totals between 10 mm and 50 mm were recorded in eastern New South Wales and a pocket of the northwest, across far eastern Victoria, western Tasmania, and isolated spots in the northwest and southwest coast in Western Australia.
Little or no rainfall was recorded in Western Australia away from the far northwest, most of South Australia, the Northern Territory, most of Queensland away from the southeast, most of inland New South Wales, northern Victoria, and eastern Tasmania.
Highest weekly totals
New South Wales and Australian Capital Territory
376 mm Woodburn (Cedar St)
311 mm New Italy (Vineyard Haven)
301 mm Nashua (Wilsons River)
Victoria
49 mm Genoa (Fools Haven)
40 mm Mallacoota
37 mm Cabbage Tree Creek
Queensland
179 mm Lower Springbrook Alert
162 mm Clearview Alert
148 mm Clearview Tm
Western Australia
12 mm Exmouth Town, Windy Harbour
9 mm Learmonth Airport
South Australia
9 mm Cape Jaffa (The Limestone), Flinders Chase (Rocky River)
7 mm Parawa (Second Valley Forest)
Tasmania
63 mm Mount Read
31 mm Queenstown (South Queenstown)
26 mm Strahan (Andrew Street), Zeehan (West Coast Pioneers)
Northern Territory
4 mm Yirrkala Tropical Gardens, Gove Airport
0.4 mm Groote Eylandt Airport, Nhulunbuy
More weekly rainfall totals:
Source: BOM