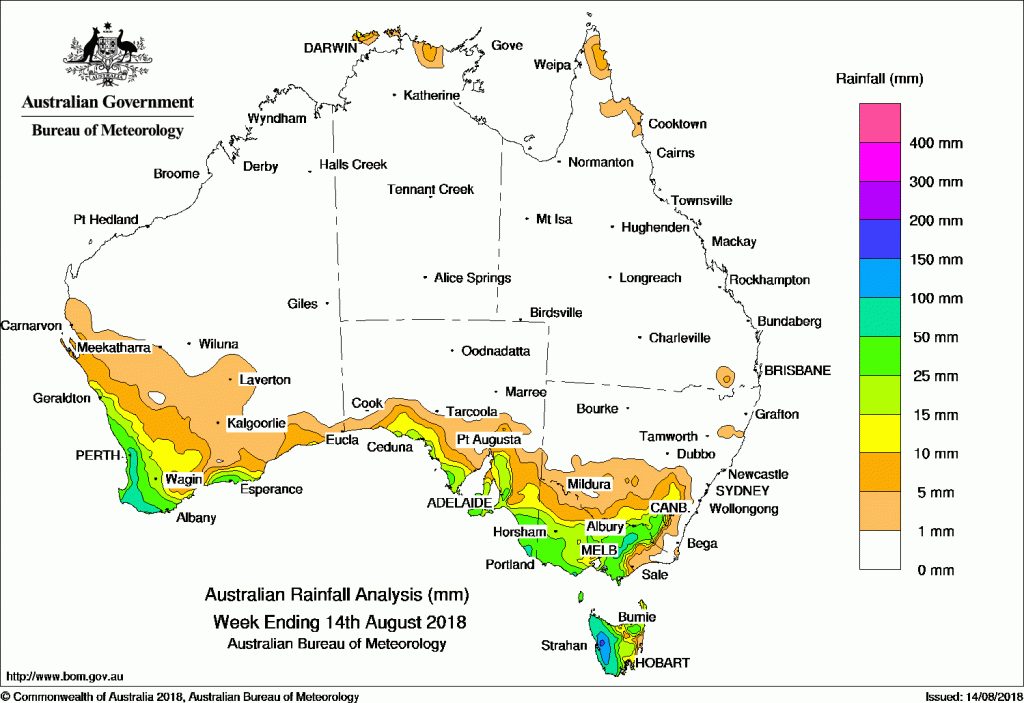 For today's 14-day rainfall outlook – scroll to bottom of article
Two cold fronts generated moderate falls in southwestern and southeastern Australia, while Western Tasmania had wet and windy conditions throughout the week.
Past seven days: At the start of the week, a cold front and associated cloudband tracked across the southeastern Australia  generating  moderate falls in the southeastern South Australian, a broad area over Victoria from the South West to North East districts, and western and northern Tasmania. Parts of southern inland New South Wales received mostly light rainfall.
A strong cold front tracked through western and southern Western Australia, with an associated cloudband extending down to the Great Australian Bight, and a cold southwesterly airstream in its wake. Moderate rainfall was recorded in much of the South West Land Division, while light falls were recorded in the Gascoyne, Goldfields and Eucla coast.
In the middle of the week, southeastern Australia experienced pre-frontal strong and gusty northwesterly winds, rain, and cold southerly winds in quick secession as the second front and associated cloudband moved through the region. Moderate rainfall was recorded in southern South Australia, southern and eastern parts of Victoria except Gippsland, the Australian Capital Territory, and eastern and central Tasmania.
At the end of the week, a cloudband and a weak cold front moved through Tasmania to bring moderate rainfall to western parts of the State. In the country's west, a cold front tracked through southwest Western Australia, with moderate rainfall recorded along the coast.
Rainfall totals in excess of 100 mm were recorded in the western parts in Tasmania, and isolated sopts in the Vctorian Alps. The highest weekly total was 210 mm at Mount Read in western Tasmania.
Rainfall totals between 50 mm and 100 mm were recorded in coastal parts of the South West Land Division in Western Australia; elevated areas in the Victorian Alps and the Snowy Mountains in New South Wales, and in western Tasmania.
Rainfall totals between 10 mm and 50 mm were recorded in remaining areas of the South West Land Division and the southern coast in Western Australia; southern South Australia; most of Victoria except the far east and northwest; most of Tasmania, and southeastern inland New South Wales
Little or no rainfall was recorded in remaining parts of Western Australia, most of Northern Territory, most of Queensland, most of New South Wales apart from southeast inland; northwestern and eastern Victoria.
Highest weekly totals
New South Wales and Australian Capital Territory
48 mm Perisher Valley Aws
38 mm Argalong (Sandy Creek), Cabramurra Smhea Aws
Victoria
102 mm Falls Creek (Rocky Valley)
83 mm Mount Buller
78 mm Jamieson Licola Rd
Queensland
20 mm Leyburn Tm
5 mm Lockhart River Airport
4 mm Moreton Telegraph Station
Western Australia
99 mm Jarrahwood
85 mm Bickley
82 mm Roleystone
South Australia
50 mm Furner (Woomera Homestead)
49 mm Mount Gambier Aero
47 mm Kingston Se
Tasmania
210 mm Mount Read
147 mm Queenstown (South Queenstown)
105 mm Warra
Northern Territory
22 mm Pirlangimpi Airport
7 mm Maningrida Airport
6 mm Black Point
More weekly rainfall totals:
Source: BOM
Rainfall outlook: