DO digital farmers dream of digital grain? They possibly do after playing this online game.
For all the talk about 'digital farming', a new competition held at the COVID-restricted Brisbane Ekka over the weekend took the concept to a whole new level.
Teams of students from various high schools sprinted to commandeer combine harvesters and balers, charged into ripe fields of grain and raced to strip crops and transport hay bales and grain to storage sheds and silos faster than their rivals.
Thanks to the widely popular online video game "Farming Simulator", such a contest at the agricultural showcase is now possible, with students able to do it all from the comfort of computer screens and gaming chairs.
After a series of early heats and knock out rounds, the end result was a cliff-hanger grand final in which a team of boarders from The Southport School prevailed in a 15 minute nail biter over an equally savvy team from Forest Lake State High School to win by the narrowest of margins with only seconds to spare.
Congrats TSS Boarders! They secured the Young Farmers @XPEsportsAus Cup presented by Arrow Energy with a 300 to 268 point win. Watch their victory at https://t.co/VHEc2hG0qt 🏆👨‍🌾 pic.twitter.com/Bky1eb94j1

— Ekka (@TheEkka) August 8, 2020
While the imperative to complete a series of farming tasks at top speed may not quite fit with the patience, care and attention to detail required in real life farming, the emergence of farming-based video games in recent years is indeed introducing agriculture and the intricacies of modern day food production to a much larger non-rural audience.
Leading the way has been the development of a PC game called Farming Simulator which was developed and launched by Swiss company Giants Software 12 years ago.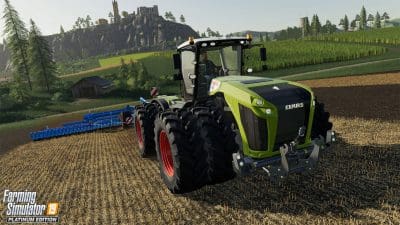 The two developers grew up in the country and realised there weren't many games out there that realistically depicted the life of a farmer, so they set out to make something that would show what it's like to operate a tractor and other common pieces of agricultural machinery.
Since its launch in 2008 they have sold more than 25 million copies of Farming Simulator, and it has also been downloaded 90 million times on mobile.
Players grow crops, raise livestock and harvest farm forestry, and as they get more money, they can buy bigger, cooler machines and grow their farms.
The game has been updated regularly since and players can today operate machinery from almost 100 different manufacturers, including major companies like John Deere, Case, Massey Ferguson, Fendt, Claas and New Holland.
Its popularity has now resulted in Farming Simulator joining the ranks of the ever growing competitive gaming world.
Online video gaming contests, or 'e sports' are becoming a big deal around the world, with competitors now able to compete for tens of millions of dollars worth of prize money in events like the 'Fortnite World Cup'.
As debate rages over whether video games can truly be called a 'sport', its push towards mainstream recognition continues to gain serious momentum, with the 2024 summer Olympics in Paris recently confirming it will include 'e sports' as a demonstration event.
Giants Software announced last year it had decided to make Farming Simulator into a full blown esport by committing US $284,803 in prize money to the establishment of a Farming Simulator League.
In the competitive game mode three players are given a field of wheat and 15 minutes to score as many points as possible by harvesting the grain and baling the straw and transporting as much of both as they can within that time frame to a barn and siloes.
On Friday and Saturday it made its debut at the Royal Queensland Show, providing an innovative and surprisingly entertaining new element to agricultural contests in a year when traditional show events have been dramatically curtailed due to coronavirus.
To see how it works you watch a full a recording at the following link which includes several earlier rounds – the 15 minute final between TSS and Forest Lake SHS starts at around the 3 hour 26 minute mark of this video.
The Royal National Association says it is now hoping to build the Young Farmers Esports into a yearly event.