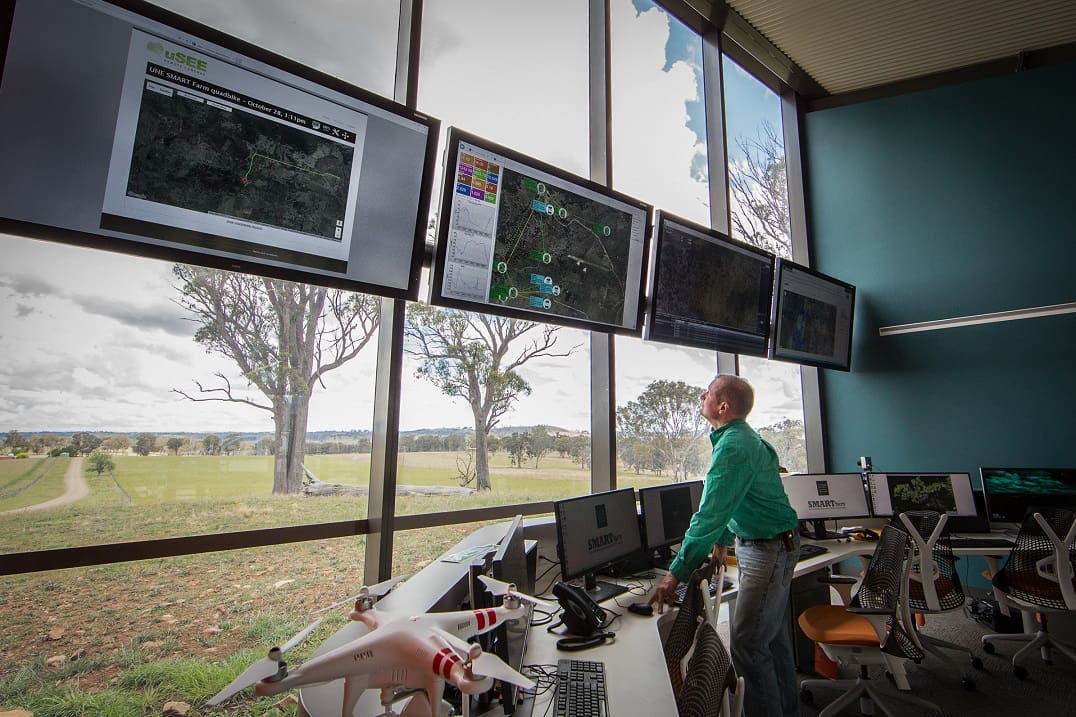 PRECISION agriculture has vaulted the farm fence and is working its way through the food and fibre supply chain – just in time, according to the University of New England's McClymont Distinguished Professor David Lamb.
Delivering the opening keynote address at the recent International Society for Precision Agriculture conference hosted online from the United States, Professor Lamb outlined to a global audience how precision ag's data-driven approach will be vital to insulating food and fibre supply chains against mounting stresses and shocks, from the local to the global.
Professor Lamb is the chief scientist of the Food Agility Cooperative Research Centre (CRC). The $150-million, 10-year CRC is working in partnership with the University of New England and seven other universities, three state government agencies and more than 35 industry partners to transform the Australian agrifood system through digital innovation.
He told the conference that data generated by on-farm precision ag once stayed on farm, in a tight feedback loop.
Now there is the capacity for that data to stream right through the supply chain, accumulating usefulness as it interacts and informs other links in the chain, right to the consumer, before ultimately flowing back to the farm in a virtuous cycle.
Data-driven value chains
Professor Lamb said data-driven value chains could not have emerged at a more critical time.
"The past year has changed the agrifood sector. Drought and nation-wide water shortages, bushfires, hyper-volatile commodity markets, the ever-fluctuating geopolitical landscape and now the far-reaching effects of COVID-19 would have been hard enough to deal with in isolation. But they all overlapped, and have pushed our resilience to the limit," he said
"This was not just one bad year. Climate change, population growth and shrinking resource availability means that these sorts of overlapping shocks are going to recur – in all probability, at increasing magnitude. Shocks are things we don't see coming, stresses are what we are immersed in."
Building greater resilience
The shocks cannot be prevented, but agriculture can build greater resilience to them by taking a precision agriculture approach to food and fibre production, starting on the farm and taking it right through entire supply chains.
Professor Lamb held up several examples of the role of technology and data in enhancing resilience.
Endeavours like the Food Agility Natural Capital Project are building processes to help streamline investment in natural capital, including carbon sequestration in landscapes.
Natural capital on farm is an asset, but rarely regarded as such.
Technology such as satellites and drones are helping land managers accurately assess which areas of land should be maintained for traditional production, and which areas are available for natural capital investments.
Such data will feed monitoring platforms that provide low-friction feedback to producers and on to investors.
The Internet of Things
Precision agriculture also connects producers to landscapes through the Internet of Things (IoT).
Networks of low-cost sensors have been shown to provide valuable production-relevant data about factors like soil moisture levels, biomass production and water quality, giving a data-driven basis for day-to-day management and building a long-term data record on which to base predictive decisions.
Using the oyster industry as an example, Professor Lamb said IoT sensors that helped producers understand water quality on their leases could also support the state regulatory body to assist in refining estuary management plans.
Such frictionless multi-use of data reduces unwarranted oyster lease closures and saves the entire industry, from producers through to retailers, substantial amounts of money.
Blockchain systems
Blockchain technology takes supply chain transactions out of human hands and ensures that transactions are low-friction, low-cost and robustly validated.
Systems such as the Food Agility Beefledger project promises to dramatically reduce profit leakage across transactions, while enhancing confidence in the authenticity of profit-making qualities like provenance and similar attributes.
But Professor Lamb said blockchain of itself wasn't a silver bullet either.
"One key learning of this work is the critical importance of how the data is created and then uploaded onto the blockchain," he said.
"If we aren't careful blockchain may simply be a secure means of hosting garbage."
As on-farm precision ag practitioners have known for years, data can be sliced, diced and moved at negligible cost.
It can thus be made to serve several purposes at once – which is one of the motivations behind the Food Agility CRC and its projects, like its work with the oyster industry.
"It's all about creating data-driven tools to support resilient farm and value-chain businesses and associated communities," Professor Lamb said.
"Precision ag principles developed on farms are now forming the digital foundations of a new era of trustworthy and resilient supply chains for a time when all our agricultural systems are likely to be tested by repeated severe shocks and ongoing stresses."
Source: UNE