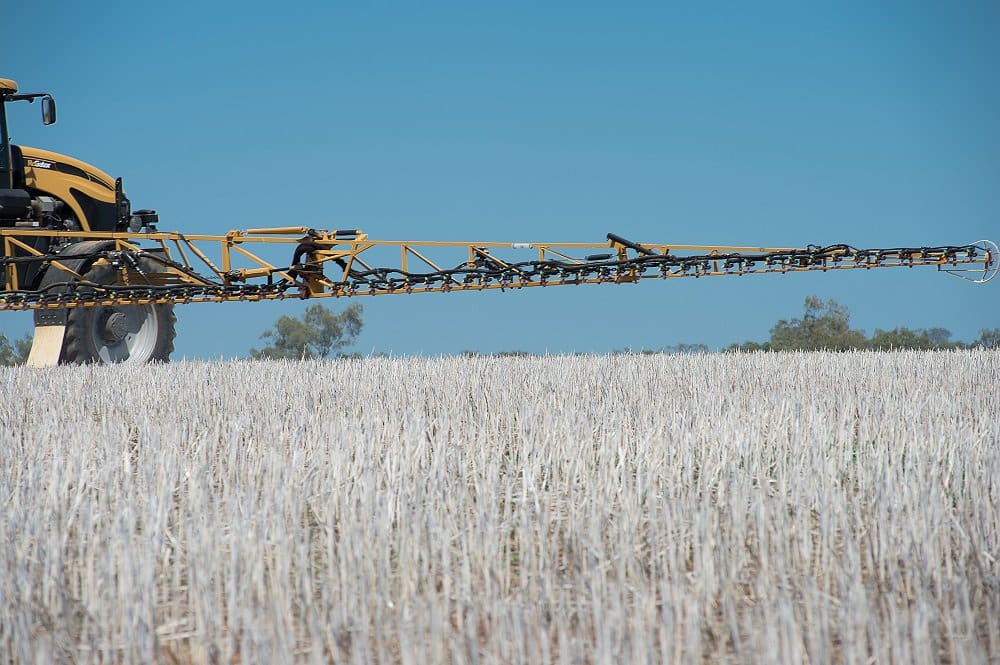 AUSTRALIAN farmers are better placed than their United States counterparts to counter the rising threat of glyphosate resistance thanks to our rotation-based cropping systems and comparatively low use of Roundup Ready crops, according to Charles Sturt University Professor of Agriculture, Jim Pratley.
Speaking at the Australian Farm Institute's 'Conservation Agriculture in 2030 Online Conference', Professor Pratley urged Australian growers not to be complacent and to use the advantages they had to extend the life of glyphosate.
That meant continuing to run diverse crop rotation systems and limiting the use of Roundup Ready crops to help stave off the build up of herbicide resistance.
In particular, in a country where wheat and barley are the predominant crops, Professor Pratley said Australia should resist any moves to extend the introduction of Roundup Ready crops beyond those currently grown in Australia (canola, cotton) to include cereals.
"If you look at the data in the US, as the introduction of GM (genetically modified) Roundup Ready crops has occurred the incidence of Roundup resistance has escalated to the point where people are moving away from glyphosate because it doesn't work. Luckily, we are not in that situation in Australia just yet – but we are working on it," he said.
"We are fortunate in Australia that our crop rotations necessarily include crops that aren't (Roundup Ready) GM. If you contrast that with the US and some other countries like Brazil, they have a rotation that is corn-soybean-corn-soybean. Both those crops are Roundup Ready GM. That is the absolute recipe for short-termism.
"In our case, we at least have one to two crops in a four or five-year rotation that don't have post-emergent Roundup use. So, while ever we have that we have the scope to manage herbicide resistance for Roundup.
"We should resist very strongly the development of cereal GM Roundup Ready crops.
"We have the opportunity to manipulate our rotations by adding another cereal or extending it so we do a cereal after a GM crop. If we get to the point where we are just doing GM crops then it will be 'bye bye' glyphosate."
Victim of its own success
Professor Pratley said glyphosate had been such a success as a broad spectrum, pre-plant weed control herbicide, chemical companies had seen the opportunity to extend the herbicide's use into post-emergent applications through the development of Roundup Ready crops.
"It became the herbicide to put into all the Roundup Ready GM crops. I wasn't keen on that happening for the reason that, if we lost glyphosate, we undermined our whole agriculture. But, of course commercial interests have made it happen," he said.
"What that did was transform glyphosate from a pre-planting, non-selective herbicide to a post-emergent, selective herbicide. So, instead of it just being the first herbicide of the season it has now become the last herbicide in the season so that any escapes are not controlled by anything else.
"So, herbicide resistance is now reasonably widespread."
"We should resist very strongly the development of cereal GM Roundup Ready crops."

– Jim Pratley
New crop options
Professor Pratley said there was opportunity in Australia to extend the diversity and utilisation of crop rotations.
"We do crop rotations very well in this country. There is a lot of reasons why we do it – disease is one, weeds is another. I think there is room for more sophisticated weed control by manipulating crop species and varieties that we haven't really explored," he said.
"I also think we are going to see an increase in the number of species we crop. There will be native crops we might introduce into our rotations.
"Looking forward, we will be producing crops for drugs. We will be looking at functional grains, breeding wheat that is gluten-free or whatever the need might be.
"The future says we will do a lot of the medical agenda simply by how we grow and breed crops. Of course, if we go into the medical field, we will have to be growing crops with limited chemical inputs.
"We are lucky in Australia where we are basically a dry climate and don't have a lot of insecticide or fungicide use. Our crops are going to become more valuable as a result of that."
Grain Central: Get our free cropping news straight to your inbox – Click here