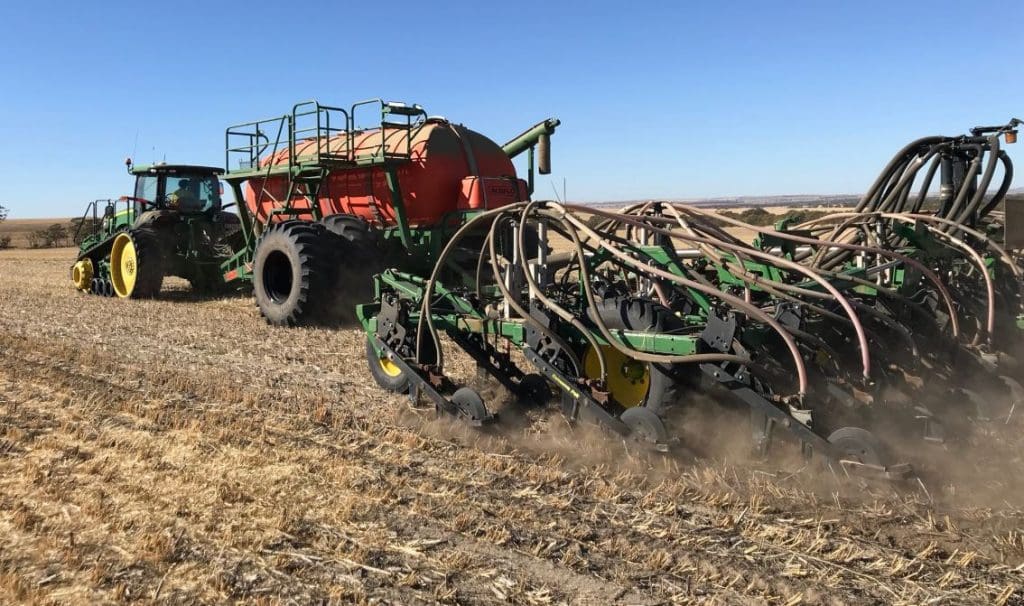 PLANTING of Australia's 2020 winter crop has started with all indications pointing to a big year for cereals as most growers in New South Wales and southern Queensland look forward to their best start since 2016 or 2017.
The sowing of dual-purpose cereal and canola crops is opening proceedings in some parts of southern Australia, where strong lamb and cattle prices continue to encourage the need for grazing options.
Widespread planting of cash crops is not expected to start until the end of next month.
Weather permitting, May and June are Australia's biggest months for winter-crop planting.
Sydney-based brokerage and consultancy IKON Commodities has issued its preliminary estimate for the new crop, pegging wheat at 27.89 million tonnes (Mt), close to double last year's production.
Its canola forecast at 3.57Mt is up 60 per cent on last year's figure, while its barley estimate is up a fraction from last year's total to 9.09Mt. Chickpeas are forecast at 710,000t, more than double the 290,000t grown in 2019.
In its March-quarter Agricultural Commodities publication, ABARES has forecast Australia's 2020/21 wheat crop at 12M hectares, with harvested area to produce 21.35Mt.
Grain Central understands an independent Australian forecaster has pegged new-crop wheat at 21.6Mt, with barley at 9.4Mt barley and canola at 2.8Mt.
"The first estimates are much higher than last year's as most of the country has received large rainfall events to date, encouraging farmers in certain regions to plant at near-maximum capacity," IKON Commodities director Ole Houe said.
"The area has to be at least average, and a normalised average of 13Mha for wheat, that could exclude 2017, 2018 and 2019."
These years saw drought reduce winter-crop area and production to well below average in much of New South Wales and Queensland.
| | | | | |
| --- | --- | --- | --- | --- |
| | 10yr average | 2019/20 | 2020/21 | 2020/21 vs 5yr avg to 2019/20 as percentage |
| Wheat | 23.72 | 14.56 | 27.89 | +28.0 |
| Barley | 8.59 | 8.45 | 9.09 | +0.3 |
| Canola | 3.21 | 2.23 | 3.57 | +17.4 |
| Chickpeas | 0.78 | 0.29 | 0.71 | -26.0 |
Table 1: IKON Commodities forecast production for 2020/21 in Mt for four key Australian winter crops versus historical figures.
ABARES will release its first area and tonnage estimates for Australia's 2020/21 winter crops by state on 10 June.
Queensland
In Queensland, a few very early crops of barley have gone in, but most growers are at the stage of running weed control and nitrogen application programs in preparation for the coming winter season.
Agforce Grains president and Darling Downs farmer, Brendan Taylor, said widespread rains in recent weeks had set up the potential for a big winter crop sowing.
"Moisture levels are patchy. Some fields, given how dry they were to start with and the intensity of the rain, may not have as wet a moisture profile as previously thought. But we are a long way further down the track than we were two months ago," he said.
"Everything is pointing to a significant winter crop plant. There are a lot of bare paddocks out there."
Mr Taylor said he anticipated there would be an increased planting of cereals this year.
"Given we could potentially get a wetter winter, people might shy away from pulses because of perceived supply issues with fungicides," he said.
"Given the demand for feed grain from the feedlot sector, I'm certain there will be a big wheat and barley planting."
Pulse Australia northern region agronomist and AHRI northern extension agronomist, Paul McIntosh, said while growers had to be cautious about overestimating the moisture in their soils because the soil was so dry when the rains came, there would be a big winter crop go in.
"I'm tipping it will be about 75pc wheat and barley and the other 25pc will be chickpeas in the Queensland-northern NSW farming area," he said.
Mr McIntosh said many growers would be looking to plant a wheat or barley crop, not only for the cash flow but also for the stubble that was left after harvest.
"Post-harvest stubble of wheat and barley is such a good thing for the next fallow season. That is what we want because there has been massive erosion across the countryside from the big rain storms in February. The best way to stop it is to have a stubble crop like wheat or barley.
"Chickpeas are on the way back a bit. The price is projected to be $500-$600/tonne, depending on what India does. But chickpeas don't give you the stubble."
New South Wales
On the Liverpool Plains in NSW, senior agronomist Peter McKenzie said subsoil moisture levels were not where most people expected them to be.
"We have had a lot of rain but still haven't got full profiles in some situations which just tells you how dry it was before," he said.
"Profiles are variable depending on how much ground cover there is, the impact of previous crops, and how intense the rain has been. Some people may have had 400 millimetres but there might have only been 150mm of that go into the profile.
"Some of the profiles are filling from the bottom up, particularly the vertosols where the water is disappearing down the cracks and it fills the bottom first. In the space of a ute you can have the moisture probe go down a metre and the next spot it can hit you in the chin."
Mr McKenzie said there had already been a lot of winter forage crops go in which would be followed by canola planting in mid to late April, then cereals through to June, then chickpeas.
"There will be a lot of cereals, but I encourage people to keep an eye on their rotations because if they go all cereals this year they will be painted into a corner next year," he said.
Victoria
The Mallee, Wimmera and south-west Victoria have mostly had 100-200mm of rain since early January.
Western Ag director Philip Hawker said this had topped up soil-moisture profiles, and allowed summer weed control to be carried out.
"We're already seeing the sowing of small areas of pastures, and early canola and wheat, and planting of the main spring crop will start in early April for canola," he said.
"Late April is when growers will start planting wheat, and then they'll move into barley as well in May."
Mr Hawker said growers were expected to stick to cereals for around 50-60pc of their cropped area, with canola and pulses making up the balance.
"The trend looks like being more canola and a bit less hay, because we're anticipating more cereals going in in NSW this year."
Mr Hawker said a 25-50mm rain event was needed in early April to allow seeding to start in earnest.
"Things are set up for a good year; there's no reason it can't be another excellent year."
South Australia
SA's cropping districts have had 20-60mm of rain since January, but more is needed before most growers will be able to plant with confidence.
Clare-based Long Seed & Grain director David Long said conditions were extremely dry.
"After last year's crop, there's absolutely nothing left in the tank," he said.
Mr Long said strong livestock prices had prompted a swing into mixed farming and away from continuous cropping for some growers, but the mix was likely to change little this year from last year.
"I think SA farmers might change their mix of crops, but they'll put in the same amount of hectares as last year.
"Last year, we saw a dramatic decrease in pulse crops because there wasn't the rainfall to plant a big crop, and a lot of people went back to wheat and barley. Some farmers went from 20pc pulses to none. They are a higher risk in dry years."
Canola area in SA is expected to increase a little on last year due to its good price prospects.
"Everyone is gearing up now and getting ready for seeding. They're ordering chemical and making sure they've got fertiliser. People are getting a bit concerned about getting the chemical."
A proportion of SA's crop is sown dry in April.
If rainfall follows its usual pattern, much of the state's canola, cereal and pulse crop will germinate in May.
Western Australia
In WA, growers are expected to seed an increased area of wheat in the northern farming regions, and more barley in the south.
In the Grain Industry Association of Western Australia (GIWA) crop outlook in February, Oilseeds Council chair, Michael Lamond, said a new wheat variety was behind the swing back to wheat over barley in the north.
"In the north, there is not a lot of barley grown but it was getting back into that area. But with the late start and hot spring last year, barley just didn't make it," he said.
"Now with the introduction of Chief wheat which is an Imi-tolerant wheat, growers can get the same benefits from weed control with wheat as they can from barley, particularly with brome grass and barley grass control. We will see barley being substituted with the Imi wheat variety Chief.
"The other thing is that with the very dry year (last year) there is probably going to be Imi carryover, so it will be a bit safer to follow barley with an Imi wheat."
The canola and lupin areas in WA are going to decline this season.
Grain Central: Get our free daily cropping news straight to your inbox – Click here