TEN years in development, a new oats variety launched near Toowoomba this morning has been demonstrated in trials to provide higher yields, faster regrowth and earlier grazing opportunities for cattle producers in the large winter forage oat growing zone from Central Queensland to Central New South Wales.
Grazing trials have demonstrated Heritage Seeds' new Warlock variety, bred by Queensland Department of Agriculture and Fisheries scientists, is 19 per cent higher yielding than the industry's benchmark forage oat variety, Genie, and 7pc above Wizard, producing dry matter yields topping 10,000 kilograms per hectare.
Bred by Bruce Winter from the Queensland Department of Agriculture and Fisheries forage oat breeding program, based at the Leslie Research Centre in Toowoomba, Warlock was launched this morning by the State's Agricultural Industry Development and Fisheries Minister, Mark Furner, in conjunction with Heritage Seeds, which jointly funds the program.
Steve Amery, the company's Portfolio Manager for Forage Cereals, said Heritage Seeds' investment in the program was reaching 15 years and aimed to help bring new and improved varieties to the industry for producers. It has contributed to the previous release of Wizard, Aladdin and Genie varieties.
"Our focus is to help build the productivity and profitability of northern livestock enterprises,'' Mr Amery said.
The program aims to develop improved forage oat cultivars with high forage yield, resistance to leaf rust, late maturity and high regrowth potential.
Similar to most other varieties, Warlock is susceptible to one race of leaf rust that may require effective management, however its vigorous early growth, speed to first grazing, recovery after grazing and high forage yields will be the big winner for producers.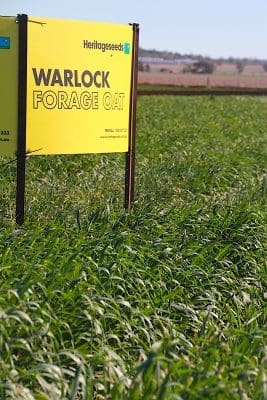 Arthur Salisbury, South East Queensland Territory Manager with Heritage Seeds, said the quick growth of Warlock was a major benefit, allowing valuable early grazing, and, together with outstanding yields, it offered potential for improved stocking rates and animal performance.
Suitable for grazing by beef cattle as well as dairy cattle, sheep and horses in dryland and irrigated areas, Warlock has an erect early growth habit, tall plant height, high tillering and medium thickness leaves and stems.
Forage oats are grown over about 500,000 hectares in Queensland alone and the new variety already is attracting strong interest for 2019 plantings.
Mr Amery said good seed stocks of Warlock would be available and producers could contact their local seed retailer or Heritage Seeds representative to express their interest in the new variety.
More on the development of the new variety tomorrow.
Source: Heritage Seeds