A HIGHLY automated irrigation system using through-the-bank piping, 'smart siphon' technology and sophisticated water flow sensor systems has created the potential to reduce labour and unlock new opportunities in water use efficiency on a large-scale irrigation farm in north west NSW.
A 'smart siphon' irrigation system has been installed on a large irrigation field on the Statham family's property, Keytah, in the Gwydir Valley west of Moree.
It has been set up as part of the Gwydir Valley Irrigators Association's (GVIA) 'Smarter Irrigation Grower-led Cotton Automation Integration Trial' evaluating the suitability of flood irrigation automation concepts.
Speaking at a field day at Keytah yesterday, GVIA project officer, Lou Gall, said the trial was a good example of grower-led research that had been able to investigate, on a commercial scale, four different irrigation systems.
"We have looked at lateral move, drip irrigation, bankless channel and siphon irrigation. In the last 12 months we are starting to look at ways to enhance each of those systems," she said.
"We are making major upgrades to the drip system, we have done some extra bankless channel designs here at Keytah and initiated the installation of 'smart siphon'."
Replacing the traditional hand siphon system, 'smart siphon' features a series of through-the-bank pipes that, on the water channel side, are fitted with rotatable 'smart siphons' linked by a cable.
By drawing on the cable, usually with a winch, a bank of siphons can simultaneously be turned down into the water to get the water to flow through to the field. To cut off the water flow, they are turned back upright so the inlets are above water level.
The through-the-bank pipes and smart siphons on Keytah were installed by laser levelling the head ditch bank, laying the pipes, then building the bank back over the pipes. Other systems have used trenching machines to slot the pipes into the bank.
Consistency of flow
Ms Gall said the 'smart siphon' system provided consistency of knowing what the flow rate was going to be out of each of the siphons.
"On the head ditch side we have installed 'smart siphons' where we can automatically irrigate up to 150 siphons in one place," she said.
"The benefit of this is we can time irrigations more efficiently. We can turn the 150 siphons on and off at once. They can be started or stopped using a winch, or just recently we have set it up so you can start and stop 150 siphons at once (through telemetry) using your mobile phone."
Ms Gall said the trial had developed the system to almost full automation, and was now looking at other additions to help operators make decisions around the timing of irrigations.
"We are using channel level sensors so we can accurately determine the water level in the channel. We are also using irrigation advance meters (to determine water flow through the field)," she said.
"We are working very closely with the team at the University of Southern Queensland to determine the characteristics of the soil and how the water is infiltrating, and to use those models to make decisions on how long we should be running the irrigations and when the optimal time is to turn it off to maximise infiltration and minimise costs and water use.
"There is still a lot of learning to be done, but we are dealing with a number of new technologies that are going to be able to be integrated into a system we will be able to remotely control. We are very close to being fully automated."
A system with potential
Keytah cropping manager, Nick Gillingham, said as a first-time installation for Keytah, the costs of the 'smart siphon' system "blew out a bit".
"In rough numbers so far, the 'smart siphon' system has cost about $800/hectare for the pipes, and another $400/ha to install the actuators, cables and other bits and pieces. Then if you overlay some of the telemetry technology, it's another $150/ha," he said.
"But I'm sure it will get cheaper and we'll get a lot better at putting it in.
"Labour is an issue and is probably the biggest driver of setting up the smart siphon system. We are hoping there are some efficiencies in terms of timing of water.
"If we can get the costs of it down it will definitely be a good option."
Mr Gillingham said one of the challenges of setting up the 'smart siphon' system was the difficulty of forming the rotobucks (water guiding furrows from the head ditch to the field).
"Generally, when you do rotobucks you follow the field edge and don't have to worry about where the rotobuck hits the head ditch. But with this system, you have to line up the rotobuck with the field and where the pipe is in the head ditch," he said.
"There is very little room for error, especially under a 30-inch (row space) system where we do a rotobuck every 1.5 metres. It was challenging to get everything to line up."
Keytah owner, David Statham, said while he was excited by the potential for the 'smart siphon' system and the opportunity to "push the boundaries" of irrigation development, he acknowledged there were farms in other areas already operating automated irrigation systems.
"We were inspired to visit the southern irrigation areas of NSW and see farms almost fully automated. They are way in front. To see some of the operations around Griffith, to see farms that are almost fully automated was inspirational. There are a lot of people a long way in front of where we are here," he said.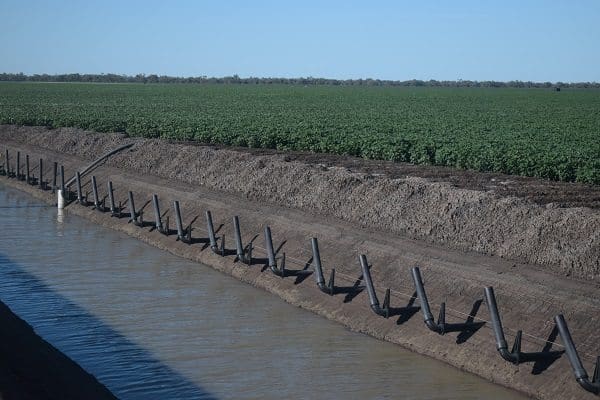 What are the barriers to adoption of automated flood irrigation:
The automation of siphon and bankless channel irrigation must fit within a capital cost structure which would enable large growers to carry the fixed costs of the system within their rotations or in seasons when irrigation water is limited.
There are minimal commercial assessments of the installation, performance and cost effectiveness of flood irrigation automation options.
It is currently difficult to easily link the necessary agronomic and water management components into a centralised location which will enable growers to remotely and confidently manage irrigations.
Access to reliable high speed data transfer is a potential barrier to adoption.
……………
The grower-led irrigation trial is supported by Keytah, Gwydir Valley irrigators, Cotton Research and Development Corporation (CRDC), Federal Government's Smarter Irrigation for Profit Project.
Grain Central: Get our free daily cropping news straight to your inbox – Click here