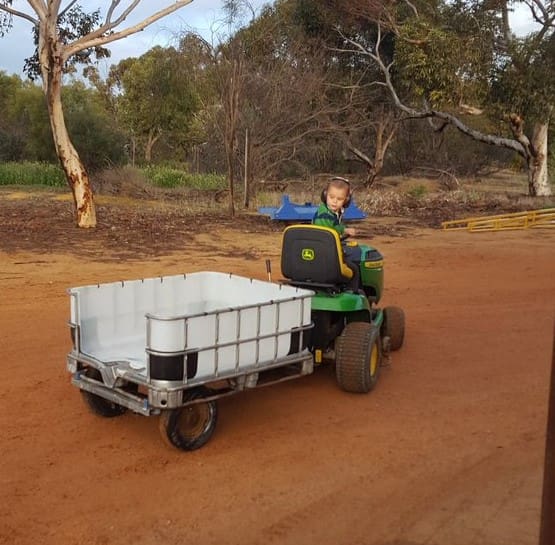 STILL looking for that elusive 'perfect gift' for Christmas?
Maybe the opportunity is lying just around the back of the shed in the form of those empty plastic bulk chemical and fertiliser containers found on modern-day farms.
Australian farmers continue to find imaginative ways to 'repurpose' the cube-shaped containers – known as IBCs or 'intermediate bulk containers' – into practical implements, farm facilities and even toys.
This Christmas season, we again feature an array of innovative ideas which farmers have been readily sharing on the IBC Challenge Twitter hashtag https://twitter.com/hashtag/ibcchallenge?src=hash
Swampy. #ibcchallenge pic.twitter.com/AvSFRdTvxs

— Ryan Dubois (@rynontan_ryan) February 13, 2018
#ibcchallenge gunie pig cage 👍 pic.twitter.com/wOlJOE5B1N

— Ryan Milgate (@ryan_milgate) June 17, 2018
my entry in #ibcchallenge . Mr 5 needed a tipping trailer for his tractor. pic.twitter.com/ANlEQkkD1y

— Andrew Irving (@andrew_irv) July 23, 2017
Sheep lick feeder #ibcchallenge pic.twitter.com/wO7R4dPRbN

— Nicholas Atkinson (@Nicholas_Atk) June 5, 2017
Sunday project: dog chariot/ gardening trailer. Christ that dog gets spoilt I hope less hair in the ute now #ibcchallenge pic.twitter.com/bQA4POM2XF

— Iain Mackie (@Iain78225333) April 15, 2018
Water blaster shelter #IBCchallenge pic.twitter.com/KJsUmGW9lA

— Amery Drage (@AmeryDrage) September 3, 2018
#ibcchallenge from a non twitter mate Peter Thompson of Manangatang, he calls it the puppy penthouse 👍 pic.twitter.com/3rUUcpxhbJ

— Ryan Milgate (@ryan_milgate) July 11, 2018
#ibcchallenge filling up with snail baits made easy pic.twitter.com/DvEsOpUs0T

— Tom Curnow (@Tomcurnow10) April 21, 2018
Not a very original contribution to #ibcchallenge but it will be handy to have around just the same #droughttherapyproject pic.twitter.com/661GkhhZvf

— Dan Mangelsdorf (@jogobel) October 11, 2018
My son has been at me for a tip trailer for the mower, this is what we came up with. #ibcchallenge pic.twitter.com/AqBBY9qUEc

— Russ Merrett (@russmerrett) November 12, 2017
#IBCchallenge it has been named. Should keep the ladies happy pic.twitter.com/1dbJAjDdjr

— Adam (Bruce) Cook (@ajcookmech) September 6, 2017
#ibcchallenge comes to @MingenewExpo bar. pic.twitter.com/mfgzbl6wqc

— Geoff Cosgrove (@cosfarming) August 13, 2018
Grain Central: Get our free daily cropping news straight to your inbox – Click here