IT has been a year of disappointment for many chickpea growers in the northern farming zone where headers are mopping up the last of what has been a mixed bag of crops.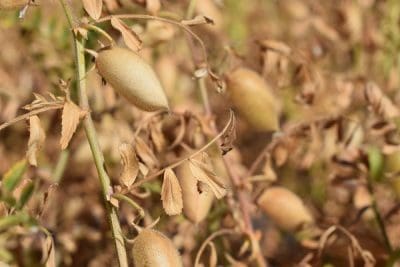 Dry weather, cool conditions and frost have taken their toll this season, particularly in northern NSW and southern Queensland.
Pulse Australia chief executive officer Nick Goddard said while the chickpea crop in Central Queensland had performed well and a significant portion had been shipped already, it was a different story in the major growing areas to the south.
"As we get further south there are issues around defective grain which has impacted quality. It was quite patchy. Some crops were excellent quality east of Moree. But between the dryness and the frost, it has been very patchy," he said.
In North-West NSW, Landmark agronomist, Garry Onus, Moree, said it had been a tough year for chickpeas with a lot of very disappointing yield results.
"Most crops are not yielding as much as what they looked like they would. I think a lot of that goes back to the cooler temperatures we had during flowering and pod set," he said.
"Some of the chickpeas in the western areas were grazed. A lot of crops have been 0.5 tonnes/hectare or less.
"There are still a few crops to come off. They should hopefully get them off in the next fortnight. There were 25 to 60 millimetres of rain across the area last Saturday but fine and sunny since."
Pulse Australia industry development manager, Paul McIntosh, said in southern Queensland the chickpea harvest was 90 per cent done with only a few areas, such as the eastern Darling Downs, still to come off.
He said 2017 had been a very different year to 2016.
"We had no rain, apart from that from Cyclone Debbie. That was all the moisture we had in the ground to grow the crop on and it reflected the yields we got," he said.
"We had early planting, but we didn't have the subsoil moisture we have had in previous years.
"That was unfortunate. It was a huge reflection on yields. If there's not enough subsoil moisture, yield doesn't happen."
Mr McIntosh said the average yield for chickpeas in Queensland would be less than 1t/ha.
"But there are some good yields. Where people didn't plant early, the crops that were planted later into June/July appear to have taken advantage of late rain, didn't get hammered as much by frost and hail storms, and performed a lot better than what we thought they could have," he said.
Mr McIntosh said the only upside to the dry season was that disease levels were exceptionally low.
"We never had the rain to have the moisture in crop, so we didn't have the disease. It was nowhere near as bad as 2016," he said.
The smaller area of chickpeas grown in the southern farming region of southern NSW, Victoria, South Australia and southern Western Australia fared better than the northern crops this season.