ADOPTION rates of controlled traffic farming (CTF) remain disappointingly low despite years of supporting research and a long list of tangible benefits, according to one of CTF's enduring proponents, Don Yule.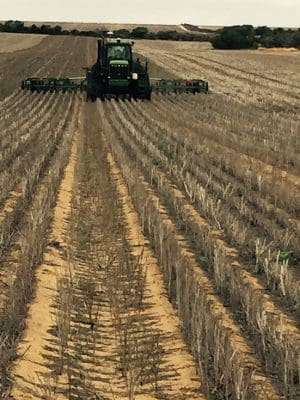 Recent surveys in Western Australia indicate 21 per cent of growers are using fully matched CTF systems and, anecdotally, there appears to be a similar figure in the northern farming zone of NSW and Queensland.
Mr Yule, who is CEO of Brisbane-based consultancy, CTF Solutions, said he was disappointed with the level of uptake of CTF since he began promoting the system to farmers in 1998.
"We still have a massive issue with the recognition of what CTF is and what it can do. Our story has not got through. After 20 years, we had put a lot of effort into getting much better adoption but we seem to have hit a few brick walls," he said.
Mr Yule said part of the challenge was highlighted in a project through the CRC for Spatial Information five years ago that specifically looked at CTF adoption.
"The survey came up with 60 to 70 per cent saying they were doing controlled traffic, but then when we asked the width of their tractor wheels it showed that only 17pc were using (fully matched) CTF," he said.
"They had to have three-metre wheel tracks otherwise they couldn't run the harvester on the tracks.
"That showed the actual adoption was about one-third of the people who said they were using CTF. Most of the people who thought they were doing CTF were basing it on the fact they had GPS guidance and autosteer tractors. They had a very narrow definition of CTF."
Mr Yule has called on machinery manufacturers, agronomic consultants and the scientific community to make a greater effort to explain and promote CTF so farmers across the nation can reap the benefits.
Through matching machinery wheel track centres to fixed wheel tracks across cropping paddocks, the primary benefit of CTF is to reduce soil compaction levels, which ultimately leads to improved grain yields and quality, reduced input and fuel costs, and more timeliness of farming operations.
In Western Australia, Department of Agriculture and Food (DAFWA) development officer, Bindi Isbister, Geraldton, said a benchmarking survey last year of 78 farmers throughout the WA grainbelt found only 21pc of respondents were using fully matched controlled traffic.
But she said the figure was an improvement on a similar survey in 2012 that showed 17pc adoption – "so, it is gradually increasing".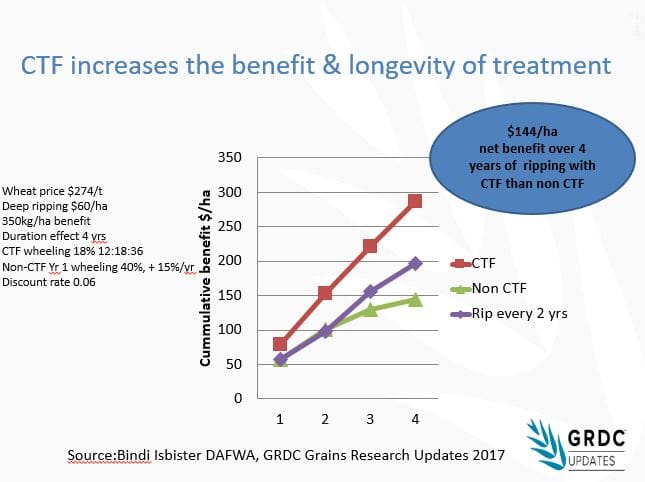 Ms Isbister said one of the key barriers to adoption of CTF was the challenge of fitting machinery to the system.
"Each time we have done a survey, machinery incompatibility and the challenge of getting it to match has been the issue at the top of the list every time. That is a little surprising because when you look at what machinery is available for CTF, there is a huge range now," she said.
"But it's partly because people in WA want a bigger bar. They have a narrow seeding window and want to cover as much country as they can. There are quite a lot of 50-foot machines.
"Often people choose machinery based on price or they want to apply a product a particular way, and that's the machine they get. So, for some, that is a challenge if the machine is not available in a width that matches CTF systems."
Ms Isbister said there were also still some people who were not convinced that compaction was a major limitation on their farms, despite evidence that machinery compaction was a widespread problem in WA's farming systems.
She said research had shown that on a farm that ran a non-controlled traffic system, machinery wheels impacted on 40pc of a paddock, and if there were dual wheels it could be up to 60pc.
But under a CTF regime operating on a 3:1 ratio system (see Figure 1) the area of a paddock impacted by wheel traffic was only 11-12pc. Even on a compromised system with a 3:1:2 ratio, it was only about 18pc.
At the same time, machinery had increased in size, particularly in the last 10 years, and compaction was moving deeper.
"Instead of sitting around the 20-centimetre level it is now down around 30-40cm deep. So, the traditional deep ripping methods in WA down to 35-40cm are now not enough. We are now looking at ripping down to 55cm," she said.
"A lot of headers fully loaded are now up to 26 tonnes, so you are going to have compaction.
"Most compaction happens in wet conditions. But in WA in recent times we have seen there can be moisture at depth. So, if you have a big, heavy machine it tends to compact deeper and you get more severe compaction.""
……………………………………………………………………………………………………………………………
The National Controlled Traffic Farming Conference will be held in Perth, WA, on August 22-23, 2017.
Under the theme, "Controlled traffic for sustainable profit", the conference will feature speakers from the research and farming communities who will cover the topics:
Economics of CTF
Setting up a CTF system
The benefits of managing compaction
New research
Technologies that add value to CTF
Visit: www.nationalctfconference.com.au
Grain Central: Get our free daily cropping news straight to your inbox – Click here