THE LIMITED availability of irrigation water is expected to impact the size of Australia's cotton crop to be planted in coming months, according to Namoi Cotton's Annual Report to shareholders released today.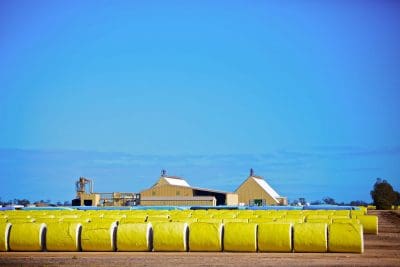 "The continuing very dry conditions have led to record low subsoil moisture levels representing a significant agronomic challenge to reasonable volumes being achieved for the 2020 crop," the company's annual report said.
This will impact on Namoi Cotton's financial year ending 28 February 2021.
"At present, public water storages from Queensland to southern New South Wales are at historically very low levels.
"The current general water availability for next year is expected to be at or near zero unless significant rain events occur prior to planting.
"At the same time, on-farm storages are low to empty."
Namoi Cotton said its Board of Directors and management were working on drought-planning strategies and implementing cost controls.
"The outlook for rainfall, whilst not currently promising for the short term, can influence planting volumes if received up to end November 2019."
The company has estimated area for the cotton crop harvested this year at 201,000 hectares of irrigation or semi-irrigation, well down from 371,000ha picked last year, and 165,000ha of dryland, which was potentially higher than the 131,000ha picked in 2018.
"The dryland crop, the largest area for many years, suffered under the prolonged dry summer and a large portion was abandoned in the February-March period."
Namoi Cotton has stuck with its earlier estimates for the current crop year of 450,000-500,000 ginned bales, and 300,000-400,000 marketed bales, down 51-63pc from the prior crop.
"The lower crop size has seen competition for marketing volumes and is anticipated to continue to pressure marketing gross margins in 2019."
"The impact of the ongoing drought upon water-storage levels and associated allocations has had the greatest impact upon central growing regions where the majority of Namoi Cotton's ginning infrastructure is located."
Namoi Cotton has a total of 12 solely owned or joint-venture cotton gins.
New sheds, projects
Among Namoi Cotton's investments in 2018-19 was the construction of two new cottonseed sheds in New South Wales, one at Trangie in the Macquarie Valley, and the other at Hillston in the Lachlan Valley, at a cost of $1.5 million each.
These will assist with commercial operations, storage and logistics.
Other projects include the use of new bale-strapping technology at the Trangie gin, and the installation of a new press at the Macintyre II site.
However, bore-water allocations are expected to remain unchanged, and industry sources have said these provide the brightest outlook for cotton grown over the upcoming summer, as do strong forward cotton prices.
More headwinds are expected in the current year because production in was less than half 2018, and limited current water supplies point to a further severe reduction in cotton crop next year.
Cargill dispute
Namoi Cotton is involved in a commercial dispute with Cargill Australia Limited in relation to the financial performance of its partnership interest in Cargill Oilseeds Australia (COA) and shareholding in Cargill Process Limited (CPL).
The company has advised the pre-discovery hearing was undertaken at the Federal Court of Australia on 13-14 June, and it awaits judgement on pre-discovery.
Namoi Cotton released its FY2019 results on 1 May.
Source: Namoi Cotton