A TOURING party of managers and agronomists from Brazil's largest integrated crop and livestock farming business is travelling through eastern Australia on a fact-finding mission comparing both countries' farming practices.
The 15-member group from the large, family-owned Grupo Bom Futuro arrived in Brisbane on Monday and is travelling through the Darling Downs in southern Queensland and the farming regions of north west New South Wales before leaving from Sydney on Saturday.
Back home in Brazil, the agricultural division of Grupo Bom Futuro produces 1.6 million tonnes of grain – including soybeans and corn – and more than 160 tonnes of lint cotton a year. It is Brazil's largest soybean producer.
The venture has 110 farms and more than 235,000 hectares of cropping – including 93,000ha of cotton – and a livestock enterprise of 120,000 cattle.
An interpreter accompanying the group said while the Brazilians had included livestock and grain farms in their Australian itinerary, their key focus was on visiting cotton producing areas.
"The main purpose of the tour is to learn about the cotton industry in Australia – the most recent innovations, best practices, latest technologies, how competitive it is, what can be taken back to Brazil and changed in Brazilian operations," he said.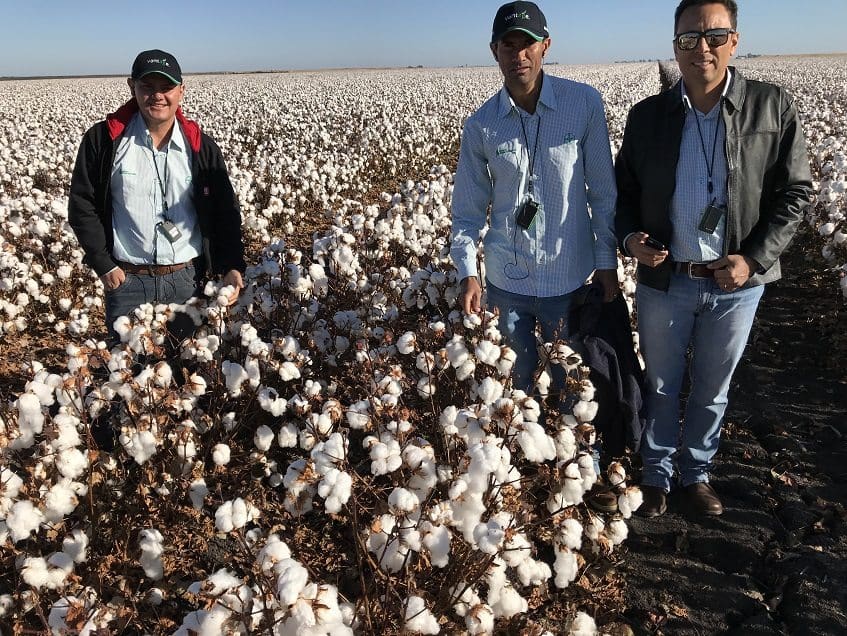 The interpreter said while there were many similarities in the way agriculture was conducted in Brazil and Australia, there were also some stark differences.
"I think the main difference is in prices. We are aware that we can produce crops for very low costs, but our on-farm prices are way lower than in Australia, especially because we have transportation issues with cotton. Australia's fibre quality is very high, but Brazil has good fibre quality," he said.
"On the beef side, Brazil has issues and challenges with things like foot and mouth disease and how Brazilian beef producers can access the best beef markets."
Precision farming technologies
Also during the visit, the Brazilians have had the opportunity to learn about Australia's cutting-edge farming technology and practices.
On a stopover in Toowoomba, they heard from Vantage NEA precision agronomist, Bryan Granshaw, who outlined the latest Trimble Agriculture range and described how Australian farmers were utilising the technology by incorporating methods like traffic control, water management, UAV imagery and variable rate application into their farming practice.
Mr Granshaw said there were huge opportunities for this technology in Brazil as it would allow farmers to more precisely manage their broad scale farming operations.
"Today they operate everything on such a broad scale, so they're wanting to have a finer resolution with their agronomic approach," he said.
"Our technology would help them to refine their farms into zones, allowing them to be more precise with their farming applications."
………………………….
The Brazilians' tour to Australia was sponsored by Bayer and organised through Australian agricultural tour specialist, Quadrant Australia.
Grain Central: Get our free daily cropping news straight to your inbox – Click here