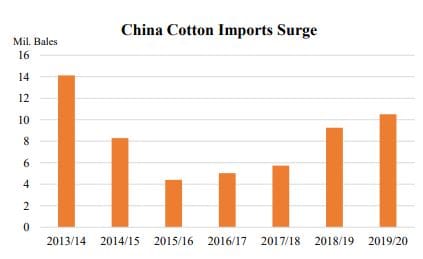 CHINA'S cotton imports in 2019/20 are expected to surpass the previous year's robust level, reinforcing its position as the world's largest importer, according to the latest outlook from the United States Department of Agriculture (USDA).
The current 2018/19 estimate for Chinese cotton imports, boosted this month, is expected to be the largest in five as China supplements domestic supplies amid ongoing auctions of State Reserve stocks.
Despite this strong upward trend in imports, US exports to China have weakened as Brazil, Australia, and other countries have expanded both exports and market share.
The additional 25 per cent tariff on US cotton implemented in July 2018 has curtailed its historically dominant position as China's leading supplier, with estimates suggesting these duties add RMB 4000 (US$600)/ton).
Moreover, record 2018/19 exportable supplies from Brazil have improved its competitiveness relative to US cotton, while Australia's proximity and large carry-in supplies have supported recent strong shipments.
Despite increased competition and tariffs, 1.3 million bales of US cotton were imported by China from August to May.
Although US 2019/20 global exports are expected to grow from the previous year, shipments to China may be impeded amidst projected record 2019/20 exportable supplies from Brazil and because of current trade policies.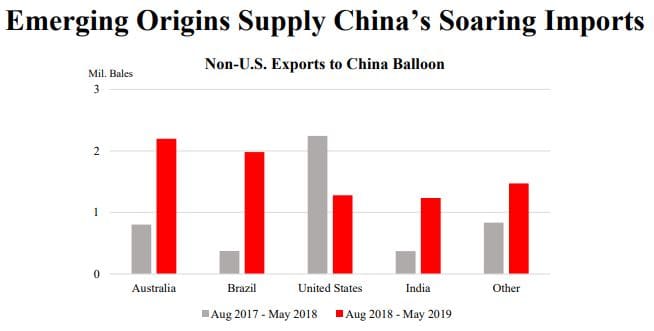 Lower consumption
The USDA 's forecast for 2019/20 shows lower world cotton consumption, primarily in Bangladesh and China.
Bangladesh imports are also down, pulling global trade lower this month.
Total ending stocks are higher on larger supplies in India and China.
The US forecast is mostly unchanged from last month with slightly higher ending stocks.
For 2018/19, the USDA forecasts world production up slightly, mostly in India.
Trade is estimated lower with subdued demand in Bangladesh along with less exports from Australia.
Slower Australia exports has helped raise global stocks this month, along with less use in China.
Source: USDA