COTTON Seed Distributors (CSD) has commenced the next step in the multimillion dollar redevelopment of its 'Shenstone' cotton seed processing plant and laboratory, near Wee Waa in north west NSW.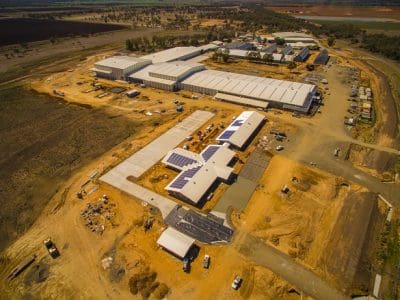 In addition to the preliminary $41 million construction investment which commenced in January 2017, CSD is now in the final stages of the design, construction and procurement of the cotton seed delinting and treatment equipment.
CSD managing director, Peter Graham, said the plant and equipment investment was budgeted at approximately $40 – 45 million.
"This brings the total investment in our new seed processing plant to approximately $85 – $90 million, a significant economic boost to the Wee Waa community, as well as being the Narrabri shire's largest ever non-mining development," he said.
"Equipment has been sourced from Europe and the USA, as well as locally in Australia, including from Wee Waa."
While CSD's existing equipment has met the needs of the Australian industry for the last 30 years, changes in technologies and crop management practices are demanding a much more responsive, efficient processing plant.
"CSD is the only supplier of cotton planting seed in Australia, so the industry is totally reliant on us to fulfil their demand as and when needed. As one of only two new cotton planting seed processing facilities in the world, we recognise the importance of investing in innovation to ensure a robust and profitable cotton industry in Australia, today and well into the future," Mr Graham said.
Fabrication, installation and commissioning of the processing equipment is scheduled to be completed by May 2018.
Further upgrades to the nursery processing equipment and site workshop facilities will be completed over the following two years.
Source: CSD