PICKING of this year's 4.5-million-bale cotton crop is moving into the Queensland/NSW border region as harvest wraps up further north in Central Queensland (CQ) where yields have been above average.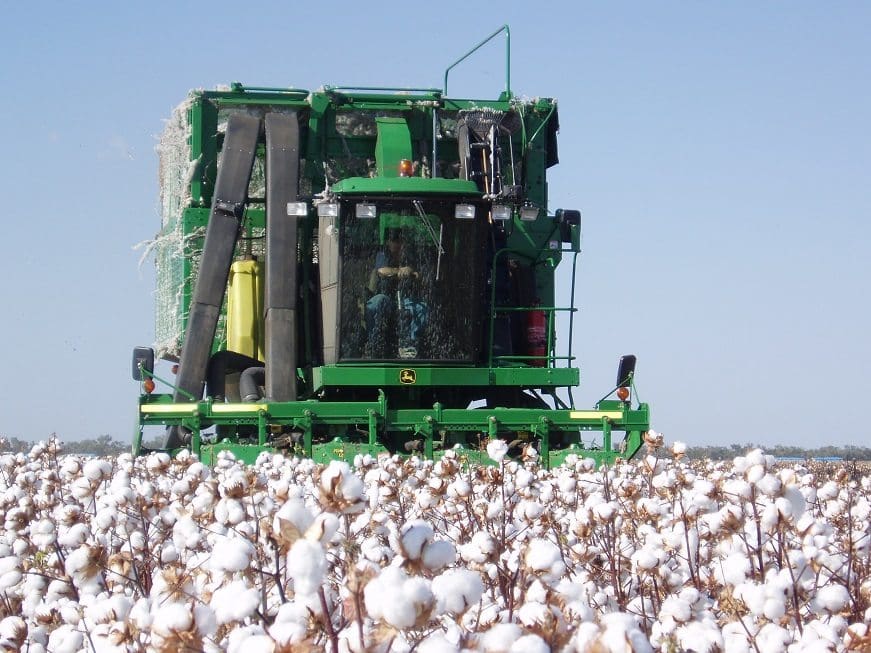 Cotton Australia estimates there were 372,000 hectares of irrigated cotton planted this season and 81,000 green hectares of dryland, giving a total Australian crop of 453,000ha.
Cotton Seed Distributors extension and development agronomist for Queensland, Sam Lee, said the majority of the early cotton was picked in CQ.
"There might be a little bit left in some places like around Theodore and Moura in the Dawson area where they have had more weather interruption," he said.
"So far from early ginning the results have been quite good. Very good yields from 10 to 14 bales/hectare."
Mr Lee said further south on the Darling Downs, irrigated crops were close to being defoliated and picking was likely to get underway in earnest around the middle of April.
"It is not looking too bad. The crops that had enough water to get them through are looking good," he said.
"The heat hasn't been as bad as it was last year. Not the barrage or the extended periods we had. There has been quite a lot of heat around Goondiwindi and St George, but the Downs has been quite lucky.
"The crops have taken a bit more water than everyone anticipated. So, there are some people who have run out of water and people who took crops out of irrigation programs and concentrated on other fields so they got full irrigations. Any irrigated fields that picked up late rain are looking quite good."
Mr Lee said some dryland crops on the Darling Downs had already been defoliated and picking should start on them by the end of this week or early next week.
"There is dryland around Cecil Plains and Dalby, also some around Chinchilla and Condamine, and even up in the South Burnett region," he said.
"The dryland is variable. Some of the earlier crops that didn't get the rainfall have finished up and are probably going to have low yields. Hopefully it will be better than last year, but there are some dryland crops that have struggled a bit.
"Any crops that were later or were able to hang on for longer got some of the late rainfall we had six weeks ago and has benefitted from that, so there might be some reasonable yields in some of those dryland crops."
Cotton Australia CEO, Adam Kay, said dryland crop yields would be below average again this year.
"A few of the later ones are better or where some growers won 'storm lotto' and got under a storm, but generally the dryland is below average," he said.
"Early indications are for above average yields for irrigated cotton, but there is only very little off so far. We have seen Emerald and Theodore yields above average on the earlier crops that are off and we are hoping the above average trend for irrigated cotton goes right through the industry."
Mr Kay said it would be another week or two before picking gets going in the northern NSW valleys, and a bit later again for crops in the south.
"But again, growers are quietly confident about their irrigated cotton. They are really looking for a month of good weather now to get the crop off," he said.
Mr Kay said there had also been 350 hectares of cotton planted in the Ord River region of Western Australia this year that was coming onto flowering.
……………………………….…………………………………………..
Don't let your picker harbour pests
With the increase in glyphosate resistant weeds, the spread of pests and the constant threats from disease, now's the time to ensure your cotton picker (and all other farm vehicles and machinery) come clean and go clean.
To 'Come Clean Go Clean', follow these three simple steps:
Boot and vehicle washdown.
Park on a clean wash pad where contaminants can be trapped. Apply compressed air or high pressure water to all surfaces to remove all trash, bulk dirt and mud, being sure to get into crevices where residual mud or trash might be trapped. Don't forget to clean your boots, plus the inside of the cab, vehicle foot pedals and other surfaces that may have come into contact with dirty footwear.
Cleanse – and decontaminate
Apply an appropriate agricultural detergent (Bio-Cleanse or equivalent) liberally to all surfaces especially areas that were dirty to remove remaining soil and plant material. Remember to clean footwear, plus inside of the cab, vehicle pedals and other surfaces that have come into contact with dirty footwear. Leave the detergent to work for 10 minutes unless directed otherwise by the label, and rinse as appropriate.
Consider using an additional agricultural decontamination product as part of your farm or agricultural business's biosecurity program – refer to your reseller for suitable registered products and always follow label directions.
Final rinse
Rinse off your chosen farm hygiene product. Clean all mud off the pad with high pressure water so it is clean for the next person and that mud and debris isn't picked up by wet tyres. Where equipment has not been cleaned down on-farm, thoroughly inspect to ensure cleanliness.
……………………….
Source: The picker cleaning guide is republished from CottonInfo e-news.
See the full picker clean down check list here.
Check out CottonInfo's video with St. George cotton grower Peter Blokman as he works through how he cleans down his 7760 picker and a few of the spots where you should be looking to stop the spread of disease and mealybugs:
Grain Central: Get our free daily cropping news straight to your inbox – Click here