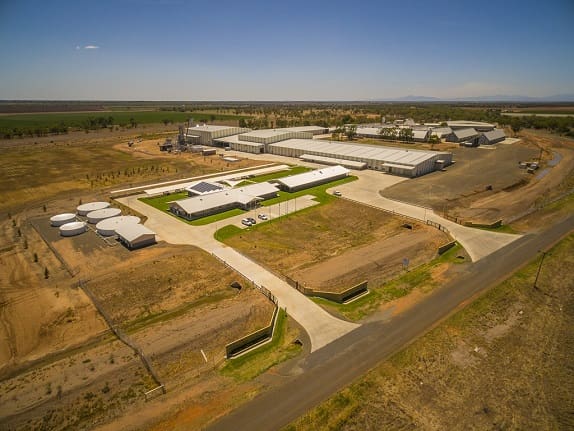 COTTON Seed Distributors (CSD) officially opened their new cotton seed processing facilities at 'Shenstone' near Wee Waa in northern NSW today.
The new facilities include a cotton seed processing plant fitted with world leading delinting and treating technology, a laboratory, administration complex and expanded seed storage facilities.
CSD chair, James Kahl, said while CSD's previous equipment had adequately met the needs of the Australian industry for the last 30 years, changes in technologies and crop management practices demanded a much more responsive, efficient processing plant.
"CSD is the only supplier of cotton planting seed in Australia, so there is significant responsibility to meet the requirements of a progressive cotton industry. These expanded facilities will enable CSD to supply cotton planting seed for up to one million hectares of dryland and irrigated cotton in any one season," he said.
The new facilities are supported by CSD's research farm; comprising 663 hectares of irrigated farming country used for early generation seed increase, cotton crop research and technology demonstration.
"CSD's strategic plan of helping growers to deliver an additional two bales per hectare by 2020 has required significant investment in innovation and infrastructure," Mr Kahl said.
Equipment was sourced from Europe and the United States, as well as locally in Australia, including from Wee Waa.
"The total expenditure of the redevelopment project is approximately $90 million, a significant economic boost to the Wee Waa community, as well as being the Narrabri shire's largest ever non-mining development. More than 100 people have been engaged in the project, many of them living in Wee Waa and Narrabri for months at time, injecting a significant influx of money into the local economy," Mr Kahl said.
Almost 400 guests, including CSD members and staff, industry supporters and strategic partners, gathered at 'Shenstone' today to celebrate the opening and tour the new facilities.
CSIRO chairman, David Thodey, officially opened the facilities, praising the partnership between CSD and CSIRO which has seen 47 years of collaboration and 113 cotton varieties released to market.
"Combining CSIRO's breeding expertise with CSD's market access, we have achieved so much more for the industry than either of us could have alone," he said.
"For example, through this partnership, CSD was the first company in the world to release Bollgard 3, giving farmers unprecedented freedom to choose when and how much cotton they plant."
This partnership was formalised in 2007, through the Cotton Breeding Australia (CBA) joint venture – a targeted research fund which has since invested $110 million towards the research and breeding of future cotton varieties for Australian growers.
In a further announcement, Mr Thodey revealed the joint decision by CSD and CSIRO for the extension of the CBA partnership from July 2024 to June 2029.
"I congratulate CSD on the tremendous facility they have built at 'Shenstone'," Mr Thodey said.
"Such an investment will ensure cotton remains at the forefront of Australian innovation well into the future. CSIRO is proud to be partnering with CSD in the next phase of this journey."
Source: CSD
Grain Central: Get our free daily cropping news straight to your inbox – Click here