CENTRAL Queensland (CQ) grain growers are blowing the cobwebs out of their headers and getting ready for an early winter crop harvest with the first crops in the area likely to come off in two weeks' time.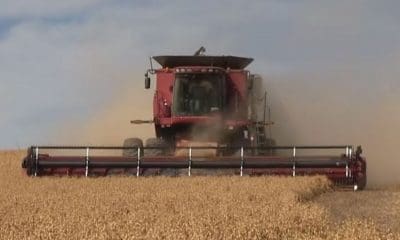 A dry, mild growing season has seen chickpea and wheat crops maturing early and already beginning to turn.
It has been unseasonally warm throughout the region in recent days. Emerald is forecast to reach a top of 32 degrees Celsius today, and 34 degrees tomorrow, with sunny skies persisting through to at least the end of the week.
Spackman Iker Ag Consulting co-principal, Graham Spackman, Emerald, said the CQ harvest was likely to be two to three weeks earlier than usual, and a month or more earlier than last year's wetter season that saw a late harvest.
"Quite a lot of chickpeas are starting to turn already and maturing. Some of the wheat is a bit the same. The earliest wheat and barley aren't far away," he said.
"It will be the end of August/first week of September before the header goes in.
"Some of the first wheat, a quick variety planted in the first week of April, is almost ready, but the majority will be at the end of the month/first week of September."
Mr Spackman said sowing rains from Cyclone Debbie in late March followed by a very warm, dry season had impacted differently on crops, largely depending on sowing times.
"It depends from paddock to paddock, but some of the paddocks that were planted early that were on good moisture look particularly good. Some of the later crops haven't grown much and are struggling," he said.
"We know that early planting here has higher yield potential because you get more of an opportunity for in-crop rain, but you do run the risk of frost. Sometimes it bites you and sometimes it doesn't. It is a matter of spreading your risk according to frost risk.
"In the last few weeks we have had some cold snaps and there is some frost damage in some of the chickpeas in low-lying areas. In areas that are frost-prone, chickpeas have been podding up in that time and there will be some damage.
"On a lot of farms they won't notice it much, but if they have a lot of low-lying areas it will have an impact, moreso in chickpeas than wheat."
AgForce grains board member and grain grower at Capella, Tim Gersbach, said he expected to begin harvest around the turn of the month which was a couple of weeks earlier than usual.
"We think we might take the first 150 hectares off in early September. Most years we look at the third week of September," he said.
"Some of our chickpea areas weren't planted into a full profile of moisture. In our case, those paddocks are quite advanced at the moment and are haying off very fast because they are running out of moisture. They wouldn't be shutting down this early if they had moisture.
"Most of the wheat didn't get its secondary roots down, apart from some of the earlier crops. The wheat is standing there with primary roots, and that is it.
"We had some longer fallow paddocks from sorghum back into chickpeas. They are doing better because they have had more moisture.
"Anything that had a full profile is still quite green. It doesn't have signs of haying off yet. But anything that didn't have a full profile, or is on lighter country, is certainly haying off."
Mr Gersbach said the crops around Capella had done well considering the season they had had.
"We had Cyclone Debbie and a change that gave us planting moisture. We started planting chickpeas on April 25 and a lot of people were planting wheat at the same time," he said.
"Then we got 17 millimetres of rain on May 9 and 6mm on May 12, and finished planting on May 15. But that has been all we have had until about 10 days ago when we got 7mm."