A WET spring may have produced the best conditions for one of the cropping industry's biggest yield thieves: the cereal cyst nematode (CCN).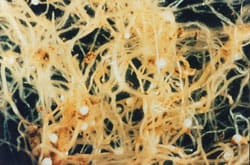 Agriculture Victoria research scientist Dr Josh Fanning said CCN could cause yield losses of up to 70 per cent in intolerant varieties.
"CCN was a huge issue for Victorian growers in the 1970s and 1980s, however the use of resistant varieties meant the disease was largely forgotten, until now," Dr Fanning said.
The past wet spring in Victoria produced ideal conditions for CCN to increase.
Scientists are now beginning to see the pest re-emerge, as farmers are using varieties that are susceptible to the disease and have been including fewer break crops in their rotations.
Five per cent of paddocks in the Mallee and 12 per cent in the Wimmera had CCN present when surveyed during 2014 and 2015.
Varieties susceptible to CCN that are widely grown in the Wimmera and Mallee include Gairdner and Scope barley, and the wheat varieties Axe and Cosmick
Dr Fanning said CCN should be taken as a serious issue for croppers growing susceptible varieties.
"Although it has not been a major problem in recent years, it can still cause severe yield losses," Dr Fanning said.
"However, there are ways this can be avoided and farmers need to ensure they are doing everything they can to manage the disease.
"Farmers need to check the levels of CCN in their paddocks. This test can be organised through a local agronomist and can deliver an answer on CCN levels within a couple of weeks.
"Identifying low yielding paddocks or washing cereal plant roots can also help detect paddocks with issues.
"Growing resistant cereal varieties, or non-cereal break crops in a rotation, and controlling cereal weeds early in break crops reduces CCN populations."
For more information, contact Dr Josh Fanning at Agriculture Victoria Horsham on (03) 5362 2111 or [email protected]
Source: Agriculture Victoria