GRAIN growers have only one month left to submit feedback to a review by Wheat Quality Australia (WQA) into the removal or retention of old wheat varieties on the Wheat Variety Master List.
The review is looking into varieties that were classified more than 10 years ago.
Old varieties that comprise 0.1 per cent or more of receivals in any zone will be retained on the Master List provided there are no quality issues.
Varieties approved for removal from the list will be highlighted at the time of release of the list in September, however can be delivered into the approved class for a further two years. After this time grain from these varieties will be received as "Feed".
Three varieties (Group 1), Barham, Bullaring and LRPB Guardian, which have comprised less than 0.1pc of receivals in the past five years, have been earmarked for removal unless a very strong case can be made for their retention.
Another 11 varieties (Group 2) more than 10 years old and having had more than 0.1pc receivals in the past five years are under review for possible retention.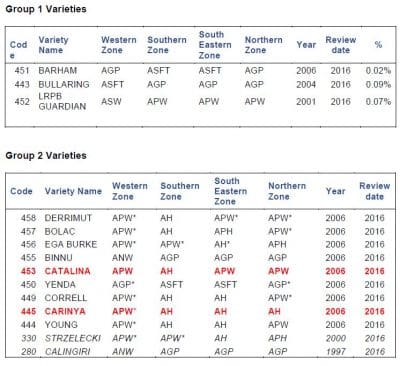 Queensland AgForce grains president, Wayne Newton, said if growers felt there was a significant variety that should be retained it was important they put a submission to the WQA.
He cited the case last year where Kennedy, a popular variety in Queensland's Biloela area, had its status extended by WQA as the result of feedback from growers.
"We have been successful in getting them to retain that variety for another 12 months. For this coming harvest and the subsequent harvest it will still be acceptable as Prime Hard, but after that, because of its significant inherent quality issues, it will be downgraded to a Feed wheat," he said.
"We are happy we have managed to get growers in that area an extra 12 months to transition."
WQA encourages all interested parties to review the old varieties proposed to be removed from the Wheat Variety Master List and advise if there are any that should be retained.
Growers should provide evidence to substantiate any variety that should be retained. Responses are invited by 30 June 2017, http://wheatquality.com.au/classification/submission-to-council/