DRY conditions have called a halt to forage oat plantings across eastern mixed farming regions where acreages were expected to be higher this year due to buoyant livestock returns, but only a portion of the planned area has gone in.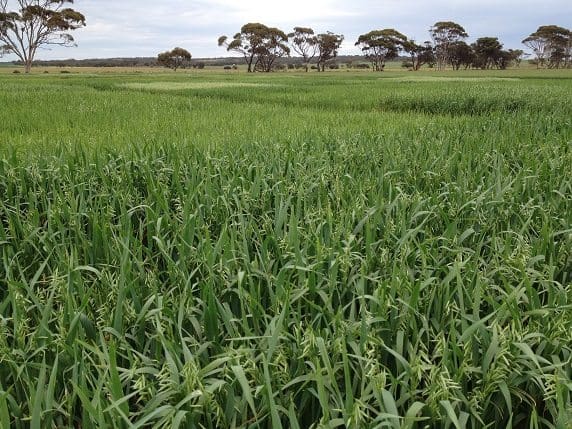 McGregor Gourlay agronomist at Inverell in northern New South Wales, Andrew Morelli, said only quarter to half the proposed area of oats for the district had gone in, and the crops that were in were doing it tough.
"It has been dry, dry and dry. A lot of it is in trouble. It will need a drink of rainfall very soon. Around 30 per cent has died off already due to the lack of moisture," he said.
"If it rains, with the warmer ground conditions due to the warm weather I think growers should be able to get more oats in before it turns cold and it can get up and away before conditions get tough."
In southern Queensland, Pioneer Seeds Australia area manager for the Central and Southern Downs, Goondiwindi and Border Rivers, Ben Thrift, said a reasonable area of early oats went in on rain in late February/early March, while some growers took the opportunity to plant late summer forage crops.
"But, now the rainfall tap has turned off, it has really come back. People are looking for two inches (50mm) of rain to get back into planting oats again," he said.
"There were some late forage planting opportunities with quick-graze Super Sweet Sudan, Mega Sweet and Betta Graze. But, if farmers get rain now, it is all too late for summer forages and they will plant oats."
On the NSW south west slopes where conditions have been better, Premier Advisory Australia consultant, Andrew Daley, Harden, said a lot of the oats had been planted from the start of February to the middle of March and was up and away.
"It is just waiting for the next rain to really blossom," he said.
"There is not much more oats to go in. People will swap to wheat now. Anzac Day is usually the end of fodder cropping and growers will swap over to straight grain crops from then.
"Most of the area is mixed farming, with about 70 per cent graze/grain crops and 30pc straight cropping. It is heavily skewed to the livestock side of things at the moment with the price for livestock the way it is."
Dry puts NSW winter crop sowing on hold
Meanwhile, the NSW Department of Primary Industries' latest Seasonal Update reports the dry conditions across NSW throughout March have left farmers weighing up decisions on whether to sow winter crops and how to manage livestock.
Only the north and east of the state received reasonable rainfall during March as more areas of the Hunter, Central West, Central Tablelands and Far West tipped into drought.
NSW DPI leader climate applications and digital agriculture, Dr Anthony Clark, said dry conditions had left the pasture base in very poor condition across the affected areas.
"During March rainfall ranged from five millimetres to 100mm across most of the state," Dr Clark said.
"Large areas of the Western, Central West, Riverina and Murray regions received less than 10mm.
"The southern half of the North Coast and north east of the Hunter regions received from 200mm to above 300mm in some areas.
"Despite good falls of rain in parts of the north east Hunter, this area remains in drought watch, while the western area that missed the high rainfall remains in drought."
Dr Clark said with the expansion of the area under drought watch in March, and the main sowing time approaching for winter crops, the DPI was continuing to monitor agronomic indicators like stored soil moisture very closely.
"NSW is at a higher state of alert than in February, and if dry conditions persist throughout the remainder of the critical autumn window, there will be a major negative impact on cropping and livestock sector production for 2018," Dr Clark said.
"During March temperatures were warmer than average across the whole state with most of inland NSW experiencing average daytime temperatures of over 30°C, while in eastern NSW temperatures ranged from 18-30°C.
"Lack of rainfall and warm temperatures across much of the state have put pressure on pasture growth and reduced stored soil moisture. In March and early April, rainfall and soil moisture levels across inland NSW were generally insufficient to allow the sowing and establishment of late maturing dual-purpose winter grazing crops.
"This will put increased pressure on pastures over late autumn and winter, unless reasonable rainfall is received soon to get grazing crops sown."
The Drought Direction Index to 31 March shows a drier trend across most of inland and southern NSW, while the majority of the North Coast, Hunter and Greater Sydney regions are currently showing a wetter trend."
The Bureau of Meteorology's rainfall outlook for April to June indicates that there is a near-equal chance of drier or wetter than normal conditions across most of NSW.
There is an increased chance of wetter than normal conditions across areas of the south east of the state, including the south coast, southern highlands, the Monaro and the alpine areas.
Grain Central: Get our free daily cropping news straight to your inbox – Click here