WESTERN Australia's total grain yield potential has slipped by more than 1 million tonnes (Mt) in the past few weeks due to continued dry conditions in much of the state's growing regions, according to the Grain Industry Association of WA's August 2023 crop report released today.
Report author Michael Lamond said in the central and northern regions away from the coast, grain yield potential has fallen and will continue to fall further if rainfall does not pick up in the next four weeks.
Recent light rainfall in the northern portions of the state has given those growers a short reprieve from what was shaping up as being a very poor year.
Further south, the situation is more mixed with patches of very dry areas among those still hanging on, to extremely wet waterlogged areas closer to the coast.
Mr Lamond said for many growers, the potential for a good year remains, although the "bucket" is very dry and regular rain, or a few good double-digit falls, are needed to keep things ticking along.
The recent upturn in day temperatures has highlighted the precarious nature of the crop for large areas of the state, where crops are later than in the previous very high production years.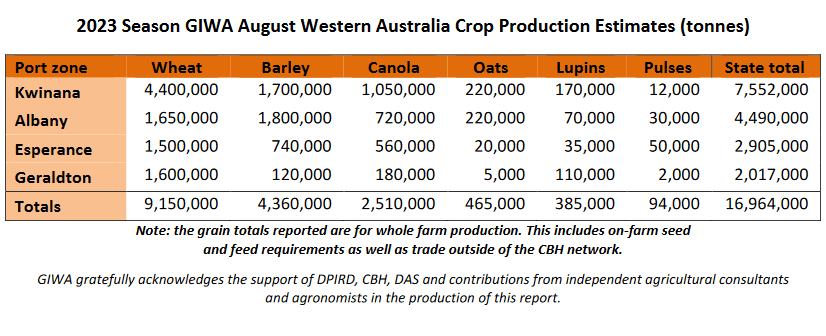 Mr Lamond said the majority of WA's canola crop is in good shape as the early sowing has assisted in pushing it through its growth stages in front of the cereals, which will result in less exposure to heat shock in spring.
Canola grain yield potential is well below last year in most regions, although the second-highest planting
of more than 1.8 million hectares still sees production of around 2.5Mt possible at this stage of the season.
It is now unlikely wheat production will exceed 10Mt as large areas of the central regions that
were holding potential until a week ago are now sweating off tillers in response to the dry conditions and
warm temperatures.
The very high potential areas of the state closer to the west coast are still holding, although without good follow-up rain soon, these areas will also lose potential rapidly as they are bulked up and have little moisture below them.
Wheat yields in the better areas look like being over 2.5t/ha graduating to 1t/ha or less in the poor areas.
Overall, a 2t/ha average across the state is currently about where it is at.
The state's barley crop has quite a mixed potential with the better areas looking very good but crops in
the drier areas are running up due to moisture stress. An average grain yield of 2.5t/ha is going to see out most crops.
Source: GIWA
Further detail on crop conditions in individual WA port zones can be found as part of the full report on the GIWA website.