PROSPECTS for forage oats plantings are looking promising this year with crops in New South Wales and western Queensland well up and away, while plantings on the inner Downs are just getting under way.
Inverell livestock agent Bob Jamieson said oats plantings in the northern NSW district had been very large and successful, with many crops planted earlier than usual.
"The end of February/mid-March is the beginning of the oats season here but there were people planting oats as early as the third or fourth week in January which is normally a disaster, but this year season was just perfect," Mr Jamieson said.
"So unusually there are oats crops up to your knees in the Inverell district now.
"It has been a very successful planting and I would say there will be spare feed in the Inverell district for anyone that missed the rain."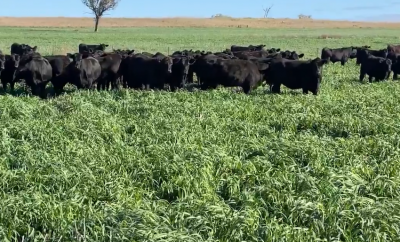 Further south at Yeoval in the Central West sheep and cattle producer Nigel Kerin planted two varieties – Eurabbie and Drover – in mid-February which are now providing abundant feed.
In a short video posted to Twitter below he explains why the two varieties were planted and how they are performing so far:
In southern Queensland Rod Turner from Nutrien at Roma said most people in the region now had oats planted and 90 per cent of crops were up to about 7-10 centimetres high and "looking good".
"All the wheat fellas are greasing up the seeders and they are about to start too," he added.
Towards the Darling Downs some producers planted on rain a fortnight ago which was coming up now, but for many it has been too wet and plantings are only just getting underway, Peter Bird from Eastern Rural in Dalby said.
"The Western Downs is going hard at the moment, starting now through to next week and will probably start on the wheat as well."
Taking a punt on the numbers
People with planting moisture but not the numbers of cattle to put on feed will be weighing up whether to put in more wheat or take the punt on oats and see what cattle they can buy when the feed is available.
The high cost of purchasing cattle in the current market will have calculator keys pounding.
Jandowae farmer, cattle producer and accountant Keith Sands said at current pricing levels the basic projections for grazing oats looked profitable.
Just as an indicative example, and factoring in basic current planting, fertilising and spraying costs, a 300 kilogram steer bought at 540c/kg and grazed for 140 days to a feedlot entry weight of 450kg and sold at 430c/kg could produce a net profit of around $600 per hectare.
Buying in heavier 400kg steers at 430c/kg and grazing them for 115 days to 600kg bullock weights and selling them at a finished price of 375c/kg could generate a net profit of around $430 per hectare.
They are purely back of the envelope calculations, in which changes in key variables such as number of days grazed and stocking rates can have big bearings on profitability either way.
Potential reductions in the price for cattle sold at the other end is perhaps the biggest factor being considered among those with country still to plant, and one that will ultimately shape how much land in areas from the Downs and Burnett north to Central Queensland are planted to oats versus wheat and barley instead.