BARLEY growers are advised to monitor their crops for early signs of fungicide resistance, with research uncovering new developments in the resistance to fungicides in a common barley disease of the southern cropping region.
Recent studies have detected more cases of resistance to succinate dehydrogenase inhibitor (SDHI) fungicide in the disease net form net blotch (NFNB).
In 2019, researchers identified dual resistance to both the SDHI seed dressing fungicide fluxapyroxad and some demethylation inhibitor (DMI) fungicides on farms affected by NFNB on South Australia's Yorke Peninsula (YP).
More incidences of SDHI resistance in NFNB have since been confirmed in samples from YP, and reduced sensitivity (reduction in the performance of the fungicide treatment that does not necessarily result in field failure) has been observed in samples collected on the border between South Australia and Victoria, as well as from Eyre Peninsula (EP).
The work has involved researchers from the Grains Research and Development Corporation (GRDC) and Curtin University co-invested Centre for Crop and Disease Management (CCDM), and the South Australian Research and Development Institute (SARDI) which is the research division of Primary Industries and Regions SA (PIRSA).
They have been working together to test samples they've collected from YP over recent months, as well as samples sent to them by SARDI collaborators, growers and agronomists from various regions of SA.
Analysing barley samples collected from 15 locations on YP, the CCDM's fungicide resistance team has been able to paint a more detailed picture of the incidence of SDHI, DMI and dual resistance.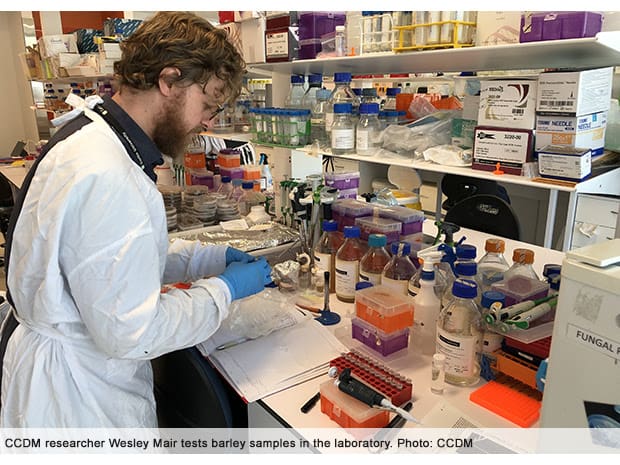 Building on testing already undertaken late last year, CCDM researcher Wesley Mair and his team spent the first half of 2020 analysing more than 400 NFNB lesions to determine the incidence of resistance.
Additional testing of samples collected by SARDI researchers, agronomists and growers from across the rest of SA have also helped CCDM researchers develop a better understanding of incidence and spread.
"Our previously released findings from 2019 showed that NFNB on YP was resistant to the SDHI seed dressing fungicide fluxapyroxad, and at the same time samples also showed resistance to the Group 3 DMI tebuconazole, which is a mixing partner in some DMI foliar fungicides," Mr Mair said.
"This latest testing now tells us that DMI resistance appears to be quite common, especially in the south of YP even though it hadn't been reported in SA previously.
"On the other hand, SDHI resistance appears to be absent on northern YP but is concentrated towards the south. As a result, dual resistance is found in the southern area and is more prevalent near Minlaton."
According to the CCDM's fungicide resistance expert Fran Lopez-Ruiz, the testing of the more recent samples indicates that the SDHI resistance found on YP late last year is more widespread than first thought.
Reduced sensitivity to SDHI also showed up in samples sent in from near the SA-Victorian border, although in this case the team's analysis uncovered a different mutation.
"In samples from the variety Oxford collected from the Kybybolite region in the South-East of SA, we're seeing new cases of reduced sensitivity to SDHI but these ones are displaying a 'new' mutation that is different to what we have seen on YP," Dr Lopez-Ruiz said.
"What's not clear at this stage is whether the new form of reduced sensitivity has emerged independently from those cases on YP."
The analysis of samples collected from the Lock area on EP also revealed the presence of reduced sensitivity to SDHI, but no mutation has been associated with this result yet.
"The key now is to put in place steps to limit development and incidence of resistance as best growers can," Dr Lopez-Ruiz said.
It is hoped the latest discoveries of reduced sensitivity to SDHI from outside YP will help to better inform growers about what to look for across the season.
SARDI plant pathologist Tara Garrard advised growers to be vigilant in watching for the disease and to put management strategies in place to help combat it.
"Anything we can help growers do to limit the amount of disease in the area is paramount and by taking the right steps they can help control resistance," Dr Garrard said.
These steps include:
If you are farming in an area that has reported SDHI resistance, avoid using SDHI fungicides as further use will apply additional selection pressure, accelerate the development of resistance and potentially lead to fungicide failure
In all other areas, if SDHI fungicides are used as a seed dressing then follow up with a foliar fungicide with a different mode of action
Choose fungicide mixtures with different modes of action
Avoid planting susceptible varieties – look for diversity in varieties
Avoid planting barley on barley
Closely monitor crops for signs of early resistance.
Growers or agronomists who suspect SDHI and/or DMI resistance should contact SARDI ([email protected]) or CCDM at [email protected] or [email protected].
Source: GRDC
More information and advice on dual resistance on YP is included in the latest CCDM podcast featuring the CCDM's Fran Lopez-Ruiz, SARDI's Tara Garrard and SA agronomist Sam Holmes who first alerted researchers to the issue in late 2019. Listen via https://bit.ly/3gfpZPG.
A GRDC podcast 'Keeping one step ahead of fungicide resistance means setting a fast pace', featuring Dr Lopez-Ruiz, is available at https://bit.ly/2VyW5xO.
Meanwhile, a webinar addressing fungicide resistance in SA, featuring SARDI researchers Tara Garrard and Hugh Wallwork, will be held today (Thursday, July 2) at 2pm ACST (2.30pm AEST): To register, visit https://bit.ly/3ddmTcJ.
The webinar is one in a series being delivered by the GRDC-supported Australian Fungicide Resistance Extension Network (AFREN).