THE QUEENSLAND Department of Agriculture and Fisheries' (DAF) inaugural Queensland Grains Research 2015 publication is now available for growers and agronomists.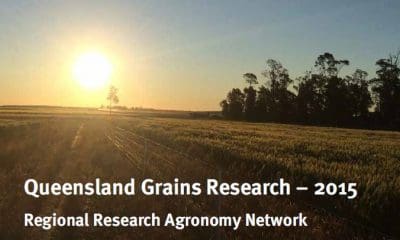 The publication presents a comprehensive summary of the grains research conducted throughout Queensland by DAF and collaborating research, development and extension agencies.
DAF senior development extension officer, Jayne Gentry, said the publication provided regionally relevant trial data in an easy-to-understand format for the grains industry to use.
"The results from 42 regional validation research trials are presented with a focus on cereal agronomy, pulse agronomy, nutrition, soils, farming systems and pathology," she said.
"This compilation of trial reports will be a useful resource that will contribute to the increase in productivity and profitability of grain production by local farmers."
The research trials were conducted as a partnership between DAF's Regional Research Agronomy Network, the Grains Research and Development Corporation and researchers who received grain's industry funding.
The Regional Research Agronomy Network consists of six research agronomists and 13 technical officers located in Emerald, Toowoomba and Goondiwindi.
Ms Gentry said the team would enable industry members to participate in the interpretation of these trial results, and contribute to the future direction of research within their region.
"We really value the support and insight provided by growers, agronomists and industry members throughout the regions," she said.
"We welcome any feedback in regards to the publication itself or the research discussed within it.
"Results for the 2016 trails are currently being compiled and are expected to be released in July 2017."
For a copy of the Queensland Grains Research 2015 publication, contact DAF on 13 25 23.
Source: DAF