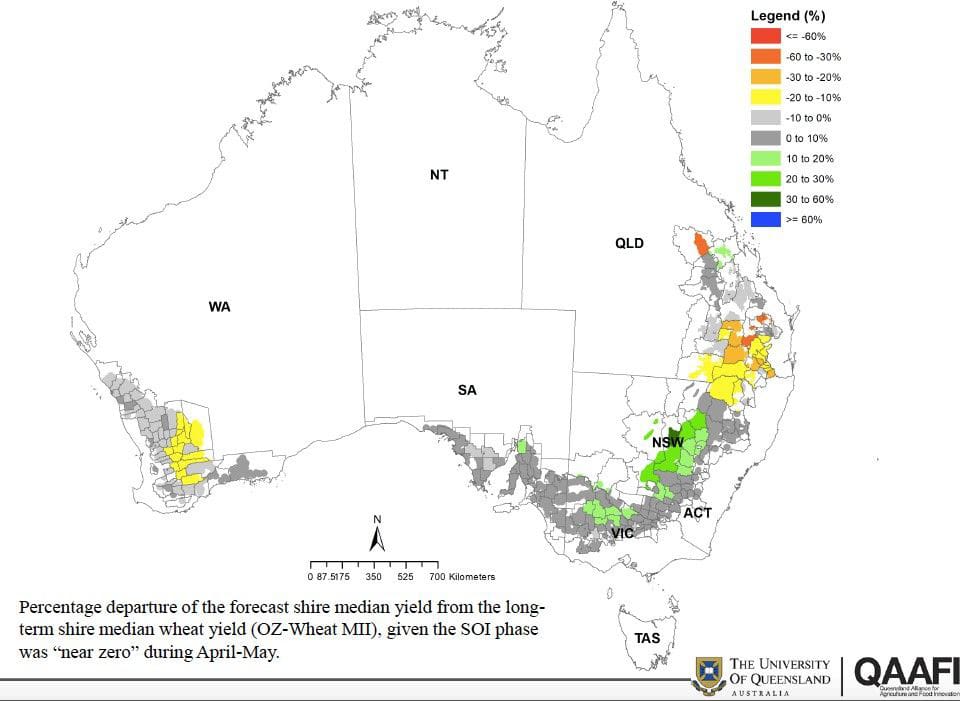 AUSTRALIA can expect to achieve an overall average yield from its 2020 wheat crop now being planted, according to the May 2020 national wheat outlook issued by climate researchers at the University of Queensland.
"Almost all of the southern states including parts of New South Wales, Victoria, South Australia, and Western Australia show significant positive departures above the expected normal yield levels," Queensland Alliance for Agriculture and Food Innovation (QAAFI) researcher Dr Andries Potgieter said.
He said widespread above-average rainfall during May to July was needed to induce further good plantings and improve the current crop outlook, especially in Queensland.
"Although most regions received good rains during the previous three months, it was variable and patchy across most of Queensland's and parts of Western Australia's winter-crop regions."
The QAAFI team uses crop modelling linked to national climate projections, and its national seasonal wheat outlook is based on the integration of the Oz-Wheat agro-climatic wheat-yield model, which is sensitive to deficit or excess water during the growing season.
Professor Graeme Hammer helped develop the wheat outlook modelling capability, which uses actual weather data across the wheatbelt up to the forecast date, and then uses projected data after that date.
This is drawn from historical analogue years based on the prevailing phase of the El Nino-Southern Oscillation (ENSO) system.
"The model has been calibrated against historical shire wheat yield data from the Australian Bureau of Statistics and uses historical weather data from the Bureau of Meteorology," Professor Hammer said.
Queensland dry concerning
This early in the growing season, starting soil-water conditions and the seasonal rainfall outlook indicate that chances are for Queensland's wheat yields to be close to average overall.
Most parts of central, far south-west and northern south-east Queensland have a 50:50 chance of above-average wheat yield.
In contrast, most parts of southern Queensland have a reduced chance of this year's wheat crop being above their long-term medians.
QAAFI said widespread above-average rainfall was needed across all parts of the state's cropping region during the next few months to induce good planting opportunities and improve winter-cropping conditions.
The likely range of yield outcomes is very wide, but will narrow considerably over the next few months.
QAAFI will be updating its national wheat-yield forecast monthly during the growing season.
Source: QAAFI


Grain Central: Get our free daily cropping news straight to your inbox – Click here