LATE-SEASON use of glyphosate on barley has been suspended following the 31 July expiry of an emergency-use permit issued by the Australian Pesticides and Veterinary Medicines Authority (APVMA).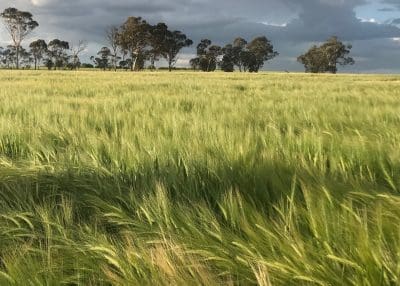 Grain Producers Australia (GPA) has applied to the APVMA for an extension to the PER82594 permit and an Item 25 label application for Barley 1 (feed barley).
The permit was granted in November 2016  and allowed a maximum residue level (MRL) of more than 10 milligrams per kilogram of barley.
The recently expired permit came out of work done between industry and Nufarm, manufacturers of Weedmaster glyphosate, and undertaken in conjunction with the Grains Research and Development Corporation (GRDC).
GPA said the Item 25 label application (technical evaluation) by GRDC included a letter of support from Bayer Crop Science (Australia).
"While the permit extension and the Item 25 label application are being assessed, the use of late-season glyphosate is no longer legal without a permit or label application," GPA chairman Andrew Weidemann said.
"While APVMA assess the application, the MRL at 10mg/kg will remain."
Mr Weidemann said the permanent introduction of an MRL of more than 10mg/kg in barley, and glyphosate labeling which reflected this, would bring Australia into line with the global convention.
"Australia is about the only country that doesn't have this usage pattern on labels.
"Now we're waiting on the APVMA."
A universal increased tolerance would reduce the risk of growers being penalised for exceeding MRL on glyphosate through off-target applications, as well as spray-topping of weeds including ergot-carrying ryegrass, and pre-harvest desiccation, and would cover Bayer as well as Nufarm and other manufacturers' products.
Limited trade implications
GPA said it did not know if the permit application to reauthorise late-season glyphosate use would be successful, and there was no indication that APVMA will issue a new permit in time for the upcoming barley harvest.  This harvest is looking increasingly likely to have the domestic market as its main customer.
China in recent years has been Australia's biggest export customer for barley and, despite its anti-dumping investigation into historical Australian barley pricing now under way, is seen as a long-term and valued customer.
China has MRL requirements for glyphosate on barley, but it does not specify an MRL.
"China is the anomaly."
In light of the drought in northern and central New South Wales and southern Queensland, much of Australia's feed-barley crop to be harvested in coming months is expected to be consumed by eastern Australia's stockfeed market.
GPA said it expected the current barley MRL would remain until the outcome of the review was advised by APVMA; that barley grain with glyphosate residues would still be able to be traded within Australia provided the residue level was compliant with the Australian MRL and outside of Australia if the residue level was compliant with the destination country MRL.
GPA has advised it will provide additional information and updates as they become available, and said the APVMA would undertake its normal review as required under regulations to assess both the GPA and GRDC applications.
Grain Central: Get our free cropping news straight to your inbox. Simply fill in and submit the 'sign up' box at the bottom right-hand corner of this page.