REPORTS of Septoria tritici blotch (STB) in some parts of the low rainfall zone (LRZ) which received good opening and follow-up rains have prompted researchers to remind growers of the importance of correctly identifying the disease and enacting an appropriate fungicide strategy if required.
STB is a stubble-borne disease of wheat caused by the pathogen Zymoseptoria tritici.
It is one of the main diseases of concern for growers in high rainfall zone (HRZ) and, more recently, growers in the medium rainfall zone (MRZ) as well.
In extreme cases in these areas, yield losses of up to 50 per cent have been recorded.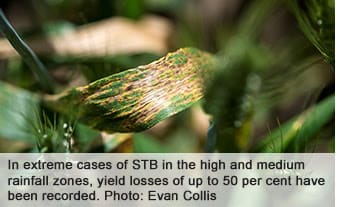 Correct identification crucial
New South Wales Department of Primary Industries senior research scientist Andrew Milgate said one of the biggest factors in successful STB management was correct disease identification.
"Early infections of STB in crops up to growth stage 31 or the start of stem elongation will occur on the lowest leaves of the crop," he said.
"If STB is present, growers will be able to observe pycnidia, which are small black dots within the necrotic areas of the lesions.
"The pycnidia are what makes STB distinctive from other diseases such as yellow leaf spot."
Dr Milgate said a complicating factor of STB when compared to yellow leaf spot was the disease's long latent phase – the time from when a spore lands on the leaf until infection could be observed – which could be between three and five weeks.
According to the GRDC's "Managing STB in wheat" fact sheet, the Zymoseptoria tritici fungus can survive in crop stubble and plant debris for more than one season, depending on the rate of stubble breakdown.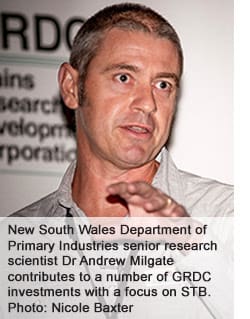 In autumn/winter, the fungus develops sexual fruiting bodies that appear as black, pinhead-sized structures which sit at or just below the surface of the stubble and leaf blades. Primary infection is mostly initiated by sexual spores (ascospores) produced in the fruiting bodies.
Ascospores become airborne and can infect young plants in early-sown crops. The airborne nature of the spores means they can infect surrounding crops and regions. Secondary spread within the crop occurs from rain splash by asexual fungal spores, conidia, produced on infected leaves.
Temperatures of 15°C to 20°C with rain followed by at least six hours of leaf wetness or dew are optimal for infection.
"STB's long spore dispersal mechanism is what sets it apart from other common cereal diseases," Dr Milgate said.
"This means if there are high levels of STB inoculum in the MRZ or HRZ, there is the opportunity for spore showers with rainfall events during autumn, meaning the disease could move into crops in the LRZ.
"It would be fair to say there could have been low levels of STB infection in LRZ crops over the past few seasons as a result of these spore showers, but conditions weren't favourable enough for the disease to develop further.
"A good start to the year rainfall-wise can provide the opportunity for the disease to develop."
In-season management
Dr Milgate said there was a strong relationship between risk of STB infection and time of sowing.
"That's purely because the Zymoseptoria tritici fungus is primed to release spores in conditions which are ideal for early sowing," he said.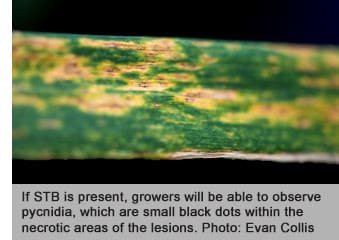 "If there is an early break then there will be spore showers.
"In a local environment, if back-to-back rotations of susceptible varieties are grown then the in-paddock risk would be much higher."
Popular varieties such as Sceptre are rated susceptible to STB. Should STB infection be correctly identified in crops, Dr Milgate said growers and advisers should address three questions before opting for a fungicide:
Is the variety rated susceptible to STB? Consult cereal disease guides to confirm.
Is STB established in the paddock? Correct identification is important.
Are conditions conducive for continuing infection to occur?
"If the answer to all three questions is 'yes', then a fungicide strategy is encouraged," Dr Milgate said.
Research conducted as part of GRDC investments has indicated that, under high disease pressure, a fungicide spray at GS31 will provide protection to the plant against STB during stem elongation.
Follow-up sprays will be important, depending on disease pressure and weather conditions.
"A two to three-spray strategy isn't uncommon in higher rainfall environments where conditions are generally more conducive to STB infection thanks to long, cool springs," Dr Milgate said.
"Growers should be prepared to continually monitor the progression of STB after the first fungicide application because treating it is different to treating a rust.
"The fungus recovers after the fungicide wears off on the green leaf area and spores are reproduced from lesions for infection to start again.
"We see that in our trials where an early spray will check the disease, but once the fungicide wears off the disease will start progressing again under conducive conditions."
The STB population in Australia currently has varying degrees of fungicide insensitivity, however, Dr Milgate said products containing epoxiconazole and prothioconazole were still highly effective against resistant strains.
In low rainfall environments where expensive products might not be warranted, most triazole fungicides should provide adequate protection.
"However, if the season progresses with continual above average rainfall and STB is still a concern, it is recommended to rotate fungicides with alternative modes of action, such as a succinate dehydrogenase inhibitor (SDHI) in a mixture with a triazole," he said.
Out-of-season management
If STB is present, planting the following crop to another susceptible wheat variety is strongly discouraged.
An integrated disease management approach is recommended to appropriately manage STB. This includes:
Crop rotation: After a very dry season, the fungus may survive over 18 months and infect second year crops. In most instances, a one-year rotation out of wheat is highly effective in reducing early disease occurrence.
Variety selection: Growers should check their local and current cereal disease guide and ensure they make appropriate selections. Where wheat is to be sown into wheat stubble, it is best to avoid varieties that are rated susceptible, susceptible-very susceptible or very susceptible.
Stubble management: Stubble reduction – such as burning, tillage or grazing – must be balanced against the increased risk of soil erosion by wind or water, especially in light soils.
Fungicide management: Always rotate fungicide modes of action so the same modes are not used twice in any given season.
Source: GRDC
Growers and advisers who are not confident in correctly identifying STB can send plant samples to Dr Milgate in NSW, Dr Grant Hollaway at Agriculture Victoria or Dr Hugh Wallwork at the South Australian Research and Development Institute.
Grain Central: Get our free cropping news straight to your inbox. Simply fill in and submit the 'sign up' box at the bottom right-hand corner of this page.