SOUTH Australian scientist Kenton Porker has been recognised as one of the grains industry's most influential young leaders with the Grains Research and Development Corporation (GRDC) Southern Region 2019 Emerging Leader Award.
The annual award – voted upon by the GRDC Southern Region Panel – acknowledges, encourages and rewards young emerging leaders of the grains industry in SA, Victoria and Tasmania.
A research scientist based at the Waite research precinct with the South Australian Research and Development Institute (SARDI), a division of Primary Industries and Regions SA (PIRSA), Dr Porker has rapidly established a reputation for his dedication, enthusiasm and quality of work.
Presenting the award at this week's GRDC Grains Research Update in Adelaide (see more pics below), Southern Region Panel deputy chair Mike McLaughlin said Dr Porker's trusted expertise and advice was often sought by the grains industry which had benefited enormously from his contribution so far.
"His work in the area of improving barley production through the GRDC's Southern Barley Agronomy project has been particularly impactful, delivering new insights and understandings to enable growers to make the most from their crop varieties," Dr McLaughlin said.
"Kenton's research has concluded that optimum yield is best achieved by matching variety phenology to sowing time and environment to ensure flowering occurs at the right time to minimise exposure to frost, heat and moisture stress.
"His ongoing work involves developing new models to explain complex environmental interactions and he complements traditional approaches with new tools such as the use of novel multispectral cameras, thermal cameras, and unmanned aerial vehicles."
Having completed a Bachelor of Agricultural Science at The University of Adelaide in 2008, majoring in crop and pasture science, Dr Porker worked as a research scientist in SARDI's New Variety Agronomy program between 2009 and 2014.
In 2011, while working full-time at SARDI, he received First Class Honours in plant nutrition from The University of Adelaide, completing a project in plant mineral nutrition, studying the improvement of phosphorus use efficiency in wheat.
Ever keen to improve his knowledge, he returned to the University to undertake a PhD in crop improvement – combining the disciplines of plant physiology, crop modelling, genetics and agronomy – completing his PhD in 2018.
Now back at SARDI full-time, Dr Porker has been the recipient of an Australian Postgraduate Award as well as scholarships from the GRDC, Playford Trust Foundation and the Farrer Memorial Trust.
He is a regular contributor to industry meetings, publications (including the SA Sowing Guide), field days and scientific conferences, both locally and internationally.
Dr McLaughlin said Dr Porker had a unique ability to deliver industry-relevant information to growers while at the same time generating cutting-edge scientific publications.
In terms of industry representation, he is involved in the SA Crop Science Society, the South Australian Playford Trust Committee, South Australian Barley Advisory Committee, and the Australian Barley Symposium Organising Committee. He is a member of the Australian Society of Agronomy and is a reviewer of the Field Crops Research and Crop and Pasture Science publication.
Dr Porker speaks regularly at farming systems groups' field days and GRDC Grains Research Updates across the State. On the international stage, he was an invited speaker at the Developing Crops of the Future Workshop in 2016 and presented at the International Barley Genetics Symposium at Minnesota the same year and the American Agronomy Conference in 2018.
At The University of Adelaide and SARDI, Dr Porker is an enthusiastic mentor to young graduates. He has a strong public profile within the grains industry, and he is active on social media platforms such as Twitter.
Dr McLaughlin said the Emerging Leader Award was a financial scholarship that could be used for travel or another agreed activity to further the skills or expertise of the recipient.
"The award is designed to encourage the emerging leader to establish linkages that leverage international knowledge and opportunities to assist the Australian grains industry to address gaps in research and skills.
"The award fosters networking opportunities and the development of linkages with leading researchers from around the globe.
"We hope this will help Kenton in his efforts to identify new paths to profitability for our grain growers, which we know is the driving force behind all that he does."
…………………………………………………………………….
Adelaide GRDC 

Grains Research Update Gallery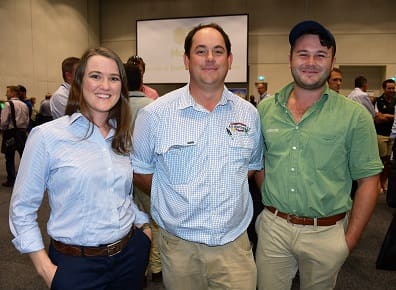 GRDC Grower Relations Manager – South, Courtney Ramsey, met up with AG Schilling & Co's Neil Wittwer, Cunliffe, and Landmark's Richard Norris, Tumby Bay.
Source: GRDC, SARDI
Grain Central: Get our free cropping news straight to your inbox – Click here