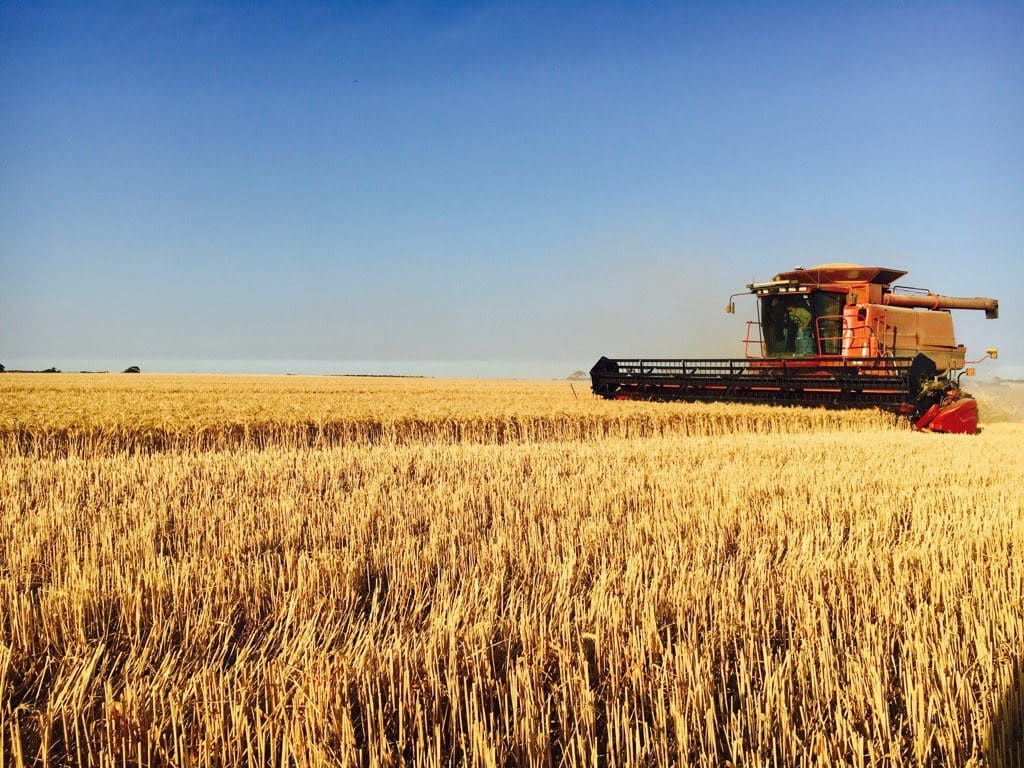 WINTER crop harvest yields continue to rise above expectations in Western Australia where total tonnages exceed projections as more area is harvested.
Despite the impact of recent storms, spot fires and rainfall events, the earlier impact of frosts, a dry September, and the confined strip of very dry conditions across the north and eastern Albany zone, across the Western Australian grain belt grain yields from the later-than-usual harvest have been better than expected, according to the Grain Industry Association of Western Australia's (GIWA) December crop report.
Cool conditions across the state during October, coupled with rainfall in early October in the central regions and some parts of the southern regions, have contributed to projections of an increase of around 2.5 million tonnes of total grain for WA since the start of harvest.

GIWA Oilseeds Council chair and report author, Michael Lamond, said although he had set the latest total crop estimate for WA at 16.7Mt, there was every chance the final production figure could better the 2016 harvest of 18.158Mt.
"As harvest continues, everywhere is better than it looks, even the bad areas. And a lot of the good areas are really good," he said.
"That is starting to really add up in extra grain across eight million hectares. It is quickly adding up to be a big harvest. It's way better than 2016 because there is just no frost."
Cereal grain quality and protein has been very good in the medium and higher rainfall regions, reflecting the extra nitrogen applied following the very good growing conditions early in the season.
Proteins are more erratic in the lower rainfall regions with many deliveries of very low grain protein from yield dilution.
Some barley deliveries are exceeding protein limits and there are incidences of high screenings for both barley and wheat from "over-cooking" crops with too much nitrogen.
Wheat protein in the lower rainfall regions, and to a lesser extent in the higher rainfall regions, is generally low again this year.
This is partly due to new varieties bringing grain yields to a new potential, resulting in protein dilution from higher yields, and partly due to growers managing production risk and grain yields to 80pc potential and not chasing premium grades due to the lack of price spread over ASW.
Canola tonnage for the state is now expected to come in at the lower end of recent years' production rather than well below recent production.
Canola yields in the northern and western areas of the state are yielding well and the poorer areas are not the complete write off that was expected.
Clear trends this year are the increase in barley plantings to "non-traditional" areas and the success of some of the new higher-yielding varieties and weed control options they provide.
Wide adaptation across the state of the newer noodle varieties has seen a similar expansion in the area planted. These trends are likely to continue.
The success this year of hybrid canola again in the north, central and lower rainfall regions on suitable soil types will see an increase in plantings in the future, constrained only by seed supply.
Seasonal outlook
WA Department of Primary Industries and Regional Development's (DPIRD) Ian Foster said the seasonal rainfall outlook from DPIRD's statistical model for December 2018 to February 2019 showed normal chances for rainfall over that period, meaning there was no preference towards either wetter or drier conditions.
About three quarters of international climate models also have a preference towards drier than normal conditions in this period, with the remainder having a neutral seasonal rainfall outlook.
This contrasts with outlooks in recent years, where a minority of models indicated below normal rain for summer.
Mr Foster said November and December to date had seen thunderstorm activity over the central and eastern parts of the grainbelt.
Some heavy falls have been recorded, though they have often been patchy.
Rainfall in November was below average for most of the region except the northeast and east.
Spring rain totals (September to November) followed this pattern, with western and southern parts of the grainbelt being much drier than normal while the east was wetter than normal.
Bureau of Meteorology summary
The summer (December 2018 to February 2019) climate outlook, issued 29 November 2018, indicates large parts of WA, Queensland and the top end of the NT are likely to be drier than average. The rest of the country shows no strong push towards a wetter or drier than average season.
Warmer than average days and nights are likely for almost all of Australia for December to February.
Development towards El Niño in the tropical Pacific Ocean continues, with outlooks suggesting El Niño conditions are likely through the summer months. However, El Niño typically has a weaker influence on rainfall in south eastern Australia during summer than it does in winter and spring.
The current positive Indian Ocean Dipole (IOD) has been a significant contributor to dry conditions in southeast Australia. However, models expect the positive IOD to follow its normal seasonal cycle, and decay by early summer.
Source: GIWA. Read full report, http://www.giwa.org.au/2018
Grain Central: Get our free daily cropping news straight to your inbox – Click here