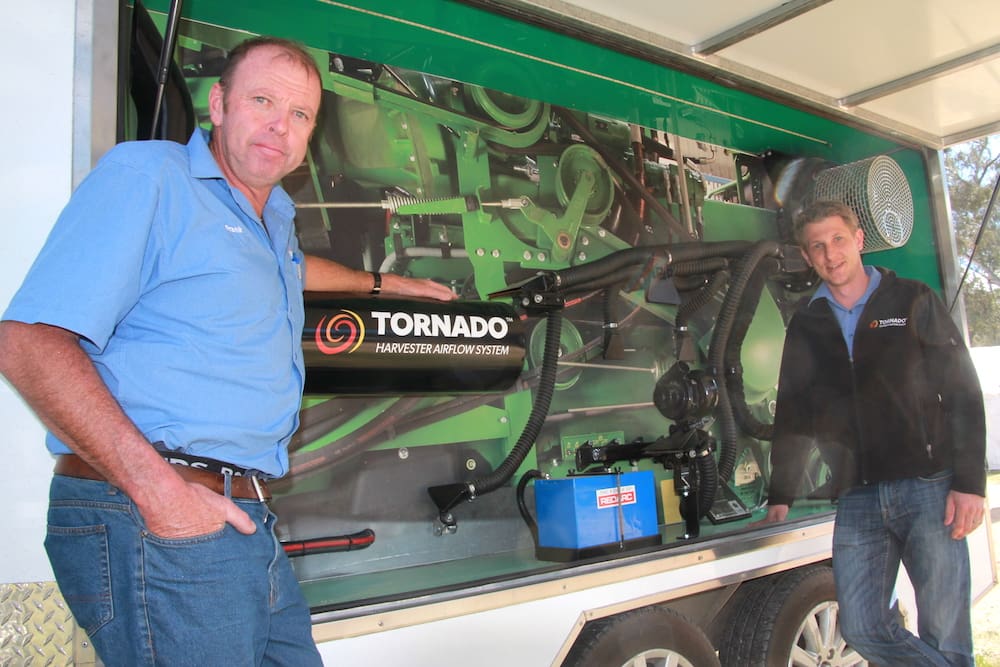 Frank Burchell and Eddy Nagorcka demonstrating the Tornado harvester airflow system at the 2018 Henty Machinery Field Days. 
A SPATE of harvester fires during the 2016 harvest convinced Horsham, Victoria, farming brothers Frank and Chris Burchell to take matters into their own hands.
Their concern went well beyond saving expensive machines from destruction and preventing productivity losses – it was about protecting lives.
"It was the start of our Victorian harvest and headers were burning in NSW and Queensland with the chickpeas," Frank explained.
"I was harvesting lentils with another header and every day, two to three times a day, he had smoke billowing out of the header and was stopping all the time.
"We thought we need to do something about this.
"I have three boys, my eldest boy has driven a header for the last few years, it is a safety issue."
A key cause of harvester fires is believed to be a build-up of dust and debris in hot spots such as the engine bay, exhaust manifold, battery or rotor shaft. Fires are reported to be more common when harvesting pulse crops such as lentils, vetch and chickpeas.
Efforts to prevent the problem typically involve stopping the harvester every few hours to remove the build-up – a time-consuming process and a major inconvenience, particularly when trying to complete a harvest before a looming weather change.
With the amount of hydraulics on modern headers, Frank and Chris thought a powerful hydraulic-driven fan system to blow dust away from hot spots could work.
A similar idea using an electric system had been tried, but had not been able to develop sufficient air-flow to provide an effective solution.
The Burchells took the idea into town to Richard Nagorcka and his brother Eddy at Horsham Hydraulics.
The Nagorckas designed a fan system that could be retrofitted to the Burchell's harvesters to complete that year's harvest. Neighbours and friends were also soon asking Horsham Hydraulics to fit the same system to their harvesters.
Recognising there was a distinct need for such a product the Richard and Eddy then invested considerable time, energy and money before the next harvest to develop a marketable hydraulic airflow system for harvesters.
That included working with Danfoss in Denmark to develop a special hydraulic valve to run the system. It also includes specially sourced airflow hoses that are more resistant to heat than other types of hoses but maintain flexibility.
The Tornado Harvester Airflow System they developed uses a powerful fan to deliver targeted air flow via six to 12 outlets to high risk areas such as the engine bay, exhaust system, battery, rotor shaft and other areas to ensure dust and debris doesn't settle on hot spots and ignite.
The fan is covered by a long-lasting ventilated cover to enable airflow, while stopping any major obstructions from entering the fan.
The Tornado system can be fitted to almost any harvester make or model, including brands such as John Deere, Case IH, Claas, New Holland, Gleaner and Massey Ferguson.
It is also now available through a nationwide network of dealers.
The system is also being used as a means to reduce the cost of harvester insurance premiums.
Eddy said an accredited training program for installs is now underway to ensure quality control over installations.
"We're also doing that for insurance purposes to ensure the quality is there so we can see some benefits for the owners in reduction of premiums as well," Eddy said.
The system has been applied to more than 30 headers now, particularly from repeat customers who have now ordered more to go on additional machines.
"Headers that were catching on fire pre-this, now with these fitted they aren't catching on fire," Frank said.
The Tornado system retails from $14,000 plus GST plus installation.
Click on the below video to Horsham farmer Mark Plowright explaining how the Tornado Harvester Airflow System has been put to use in his farming operations: