AS an early adopter of zero tillage and controlled traffic farming in Central Queensland (CQ), Brendan Swaffer is fully convinced of the benefits, and is well aware of the potential impact of weeds like feathertop Rhodes grass.
Since taking over the family farm near Clermont in 2007, Mr Swaffer and his wife Jody have been building a robust cropping program with wheat and chickpea in winter and, if soil moisture permits, dryland cotton and sorghum in summer across their 4000 hectares of cultivation.
"In the summer fallow our main weeds are summer grass, Johnson grass and fleabane but we are most concerned with the small patches of feathertop Rhodes grass that are appearing," Mr Swaffer said.
"We are using a mechanical and chemical double knock to manage these patches of FTR and it has been very effective for us in preventing its spread."
Early in summer Mr Swaffer targets any patches of persistent weeds – mostly feathertop Rhodes that has survived under the winter crop.
Starting with cultivation of the affected areas, he then follows up a few days later with an application of metolachlor (Group K) to provide short-term residual control of any new germinations that are triggered by the cultivation.
"We might spend two days ploughing but only cultivate 150ha in total," he said.
"For the rest of the year we carry a hoe in every vehicle and stop to chip out small areas of weeds when we see them. We have been enjoying the enormous benefits of zero till and controlled traffic since the 1990s – there is no going back to full cultivation, but it is a useful management tool to target weedy patches before they get out of hand."
Preventing seed set for a couple of consecutive seasons is known to rapidly rundown FTR seedbank as the seed on the surface or even slightly buried only persists for 12 to 18 months.
Adding dryland cotton to their rotation has also helped minimise the spread of FTR.
The Swaffers produced cotton in four of the five summers from 2010–11 to 2014–15, which enabled the application of Roundup Ready Plantshield to keep pressure on FTR and reduce seed set.
Glyphosate applications
Mr Swaffer has built in several non-glyphosate weed control measures including cultivation, along with other knock-down and residual herbicides, to take the pressure off glyphosate in their farming system.
"Feathertop Rhodes grass is not a problem in conventional systems but the more area farmed the more difficult it is to keep clean," he said.
"It also seems to prefer scrub soils that are a bit lighter textured than the open downs country and alluvial soils we have on this property, giving us a slight advantage."
The fallow starts with spraying out sorghum in June with glyphosate to kill the crop, make harvest easier and kill the weeds.
During summer, Brendan applies glyphosate, 2,4D-amine and small amount of metsulfuron (Group B) as a tank mix to target weeds when they are small and actively growing after a rainfall event.
The metsulfuron is targeting parthenium and can also provide an additive effect on glyphosate when applied in a tank mix.
After each spray application Brendan looks for, and manages any survivors or areas where the sprayer has missed, to minimise the number of weeds that escape and set seed later in the season.
In recent years he has moved to more robust rates to ensure efficient weed control and to avoid the need to go over a paddock a second time.
Chickpeas in favour
With the variable rainfall experienced in Central Queensland, chickpeas are now the Swaffers' most reliable crop, using moisture seeking planting techniques.
"We can plant in April or early May on rain received in February by planting the chickpea seed up to 18 cm deep," Mr Swaffer said.
"Chickpea is the only crop that has a long coleoptile that allows emergence from such depth.
"Emergence can take three weeks, but we can establish a crop on stored moisture and have it up and away before in-crop rain initiates a fresh flush of weed germination, giving the crop a distinct competitive advantage."
The timing of a moisture seeking planting needs to factor in the frost risk in the district to avoid having the chickpea crop flowering when there is a high chance of frost.
In some years there is moisture higher in the profile, allowing both chickpea and wheat to be planted about 10 centimetres deep.
Late-plant wheat
Wheat is also planted a little later in the Clermont district than in other areas of CQ, to avoid frost.
Most growers prefer to accept the small yield penalty for planting later rather than risking a crop failure.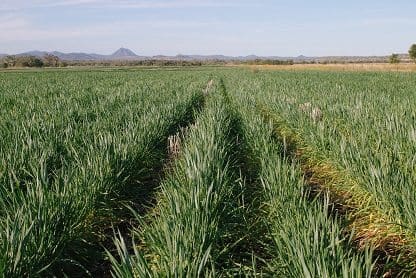 "Strzelecki wheat is a slow maturing spring wheat of semi dwarf habit that is popular in CQ due mainly to its longer coleoptile length that allows us to plant to a depth of 10cm," he said.
"But this variety is about to be re-classified to Hard 2 instead of Prime Hard and so many growers will be looking for alternative wheat for the future."
Higher levels of crop competition can be achieved in the winter crops compared to the summer crops, with chickpea and wheat both sown on 50cm rows.
Mr Swaffer plants chickpea in his cleanest paddocks and uses a post-plant pre-emergence application of Terbyne (Group C) to control weeds up to canopy closure.
No other in-crop herbicide is applied except for desiccation for harvest management.
He avoids using Balance due to the long plant-back period and the need for a lot of rain to breakdown the residual.
Single skip sorghum
Sorghum crops are sown on single skip metre rows, with cotton planted in double skip configuration of '2 in and 2 out' to optimise yield and quality.
Mr Swaffer previously planted sorghum in solid one-metre single rows but has changed to planting a single skip – 2 in and 1 out – and increased intra-row plant density.
The soil on the Swaffers' property requires about 200 millimetres of steady soaking rain to fill the profile and initiate a summer crop planting.
Last season there was no summer crop planted due to a lack of soil moisture. However, the outlook this year is looking more promising for sorghum but they have not planted cotton this season.
"We are concentrating on achieving even intra-row spacing using a double disc precision planter to increase weed competition within the row," he said.
"This also promotes even maturity and reduces tillering. The combined effect encourages a shorter flowering period and makes grub and midge control easier, along with reducing the risk of ergot infection."
Sorghum is planted in January and early February following an application of glyphosate, Dual Gold and 2,4D, provided there is no cotton planted nearby.
Mr Swaffer also applies atrazine and fluroxypyr to provide in-crop weed control.
Metolachlor applied in the fallow ahead of cotton provides some residual weed control but the main in-crop weed control strategy is RR Plantshield.
He puts far greater emphasis on timeliness of weed control than on specific rates and products.
At harvest, Mr Swaffer uses perforated screens in the header to remove as much Mexican poppy, and turnip weed seed and soil as possible out of the chickpea grain sample.
He also keeps about 100 tonnes of both chickpea and wheat seed that has been graded hard to ensure the cleanest possible seed goes back in the ground the following season.
Spray program
Mr Swaffer does all his own spraying with a John Deere 4030R self-propelled sprayer and likes to keep their spray technology up to date.
He considers the sprayer to be their main tractor now and changes the sprayer unit every five years or so to always have new gear that works well and minimal downtime.
"Our groundwater is quite hard so we use ammonium sulfate, especially when spraying out sorghum with glyphosate," he said.
"Although we now have more access to rainwater, storing water is very costly so we have been assessing the difference between rain water and groundwater this year in terms of cost and efficacy on weeds. We expect to invest more in rainwater storage in the future."
Being in full control of the spray program means Mr Swaffer can ensure his neighbours are always informed regarding cotton plantings and he only sprays when conditions are suitable.
"When sensitive crops are nearby it is all about working in the right conditions and being careful about product selection," he said.
Source: WeedSmart: www.weedsmart.org.au 
Grain Central: Get our free daily cropping news straight to your inbox – Click here