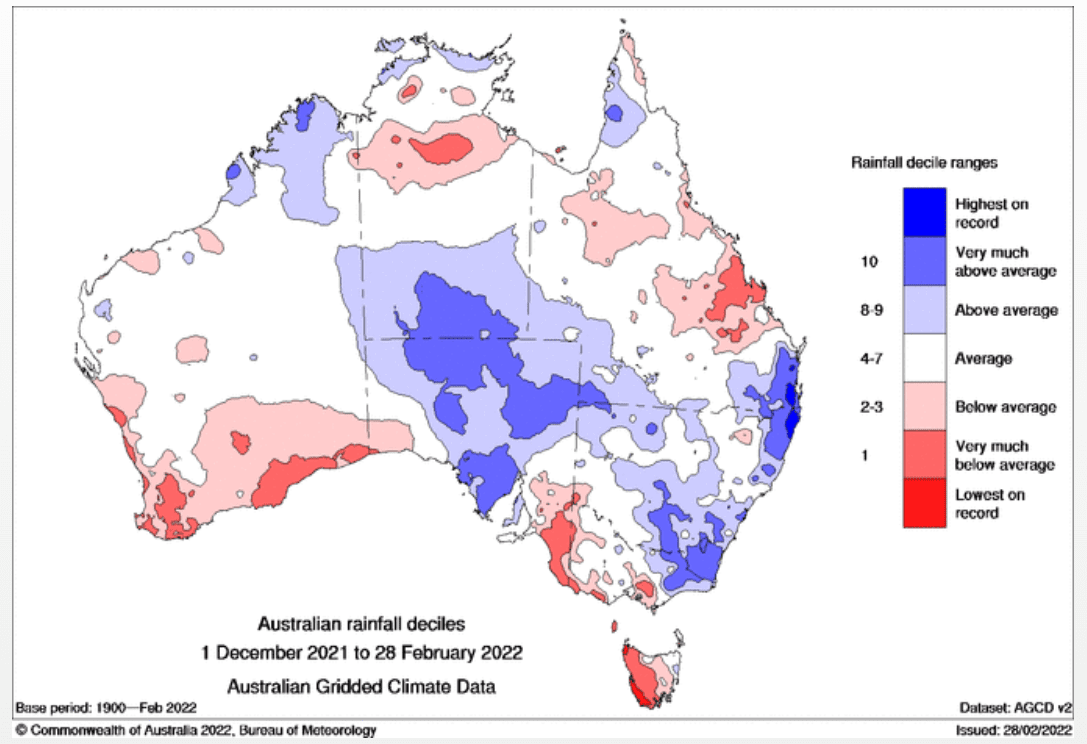 THE La Niña weather system is set to continue into late autumn, with above-average rainfall likely in some districts, but drier conditions are expected in other regions, according to the Bureau of Meteorology (BOM) Climate Driver Update released last week.
This is later than first predicted, with the BOM February update anticipating the weather pattern to return to neutral by mid-autumn.
The La Niña weather system was the driving force between the torrential rain experienced by south-east Queensland and eastern New South Wales, as well as rain in November and December last year across eastern Australia.
Although the wet weather resulted in some crop losses and downgrades, farmers across the above-average rainfall regions were generally blessed with bumper yields, which maximised the benefits of high commodity prices.
This return was not felt by all growing districts with Central Queensland, Victoria, Tasmania, southern Western Australia and parts of South Australia copping the brunt of below-average rainfall.
Some cropping regions survived on no to very minimal rainfall which, in the case of WA, was compounded by extreme heat and bushfires.
The latest BOM Climate Outlook confirmed that these conditions would continue for the next few months with above average rain expected to reach far north WA, the northern Northern Territory, northern and eastern Queensland, and eastern NSW and Victoria.
The already dry regions of south-west WA, western Tasmania and areas of southern SA were not predicted to have any relief over the coming months, with below-average rainfall forecast to continue.
National Australia Bank agribusiness economist Phin Ziebell said recent seasonal conditions had resulted a mixed outlook for growers who were finishing their summer harvest and preparing to commence winter planting.
"If you just look at south-east Queensland, NSW and into eastern Victoria you'd say it's really wet," Mr Ziebell said, speaking at the Toowoomba and Surat Basin Enterprise Protein Conference last week.
"The La Niña has delivered; but that's not true across the entire country.
"Parts of Central Queensland had a below-average summer rainfall and a huge chunk of Victoria [and] Tasmania was dry; South Australia was mixed.
"Then Western Australia has just had the hottest summer on record.
"They had a massive, really good winter crop but it is very hot and very dry in the west."
Mr Ziebell said while some farmers were rejoicing, the outlook for growers outside the above-average rainfall areas was not improving.
"The seasonal picture is good in some regions, too wet in some regions and also too dry in others," he said.
"What you have seen from this La Niña has been a very mixed bag.
"I think we need to be cognisant of what this season means for 2022, because if we don't get some of those autumn rains in the summer region, we could see the pressure on."
GrainGrowers chair Brett Hosking said he had experienced the dry conditions first hand at his property in Quambatook, northern Victoria.
"Victoria where I am is quite dry; we haven't had the summer rains," Mr Hosking said.
"The dry parts are quite widespread."
He said growers would be watching and waiting to see what the rest of autumn brings, and most were highly experienced at adapting their plans to suit the weather conditions.
"A lot is going to come down to the autumn break and what opportunities the season delivers to growers.
"Growers are very good at managing those risks and managing those opportunities.
"You'll see one rainfall event at the right time and growers will go crazy, making sure they are optimising that and getting the best crop outcomes they can from it.
"Likewise, they will hold back if they do see a situation where the risk is starting to increase due to weather conditions."
Tale of two harvests
Warra farmer and AgForce Grains president Brendan Taylor was one producer who both benefited from the wet conditions and suffered some crop damage due to prolonged rainfall and flooding.
He said the impact of the deluge brought by the La Niña system was still evident in south-east Queensland and eastern NSW cropping districts.
Although the rain had cleared, Mr Taylor said the south-easterly winds and relatively mild temperatures have kept soil moisture high on the Darling Downs.
"For a lot of people, they are just getting back on the ground to really get a crack at harvest this week," Mr Taylor said.
"The ground has just been too wet.
"There are places further east that had a lot more rain than where I am that that are still too wet to harvest."
Mr Taylor said this was the flipside of what his fellow growers have experienced in CQ.
"There are two stories with the summer crop at the moment.
"The southern quarter of the state has been bordering on too wet – it has been too wet in parts – and, with the flooding event, we have pretty significant sprouting in the sorghum that's about to be harvested.
"Then Central Queensland is screaming for rain.
"I'm trying not to be ungrateful about all the rain we have had because the alternative is worse because when it is dry you can't grow anything.
"We are only six weeks away from the winter crops being planted and we have got ample moisture profiles for that on the back of the wet summer.
"Getting a great start to the winter is pretty real for us."
Grain Central: Get our free news straight to your inbox – Click here