SORGHUM crops in the eastern summer farming regions are on track for a promising finish as the main harvest approaches.
In a dramatic turnaround from the previous drought-affected summer, ABARES estimates growers this season have increased sorghum plantings by 258 per cent to 511,000 hectares, setting up the potential for production to increase by more than 400pc on the previous season to 1.5 million tonnes (Mt).
In New South Wales, which bore the brunt of the long-running drought, growers increased sorghum plantings this season to 130,000 hectares and are set to produce 514,000 tonnes, the biggest crop since 2015–16.
In Queensland, the planted area of around 380,000 hectares is expected to produce around 1Mt.
Mixed bag on Downs
On the Darling Downs it has been a tale of two seasons with ideal conditions for late-sown crops setting up a windfall harvest, making up for some of the disappointment of early-sown crops which suffered yield losses from heatwave and dry conditions.
Pacific Seeds summer grains agronomist, Trevor Philp, said it had been a mixed bag with disappointing early-sown crops, but late-sown crops set to produce some exceptional yields.
"The early planted sorghum on the Darling Downs hasn't been fantastic. It went in as early as August on the residual moisture from the above-average winter rainfall. It didn't rain again until November, then there was a heat wave," he said.
"Mixed with that was a couple of very cold nights that affected pollination. And mice. It is mostly harvested. Yields have been around 1.0 to 2.5 tonnes/hectare."
Mr Philp said it was a different story for later sown crops planted on the Downs from early November.
"It has had a much better run, particularly with rain in January. The conditions were far kinder from a temperature point of view. Growers are just starting to spray it out now. Yields should range from 4t/ha up to some 7 and 8t/ha."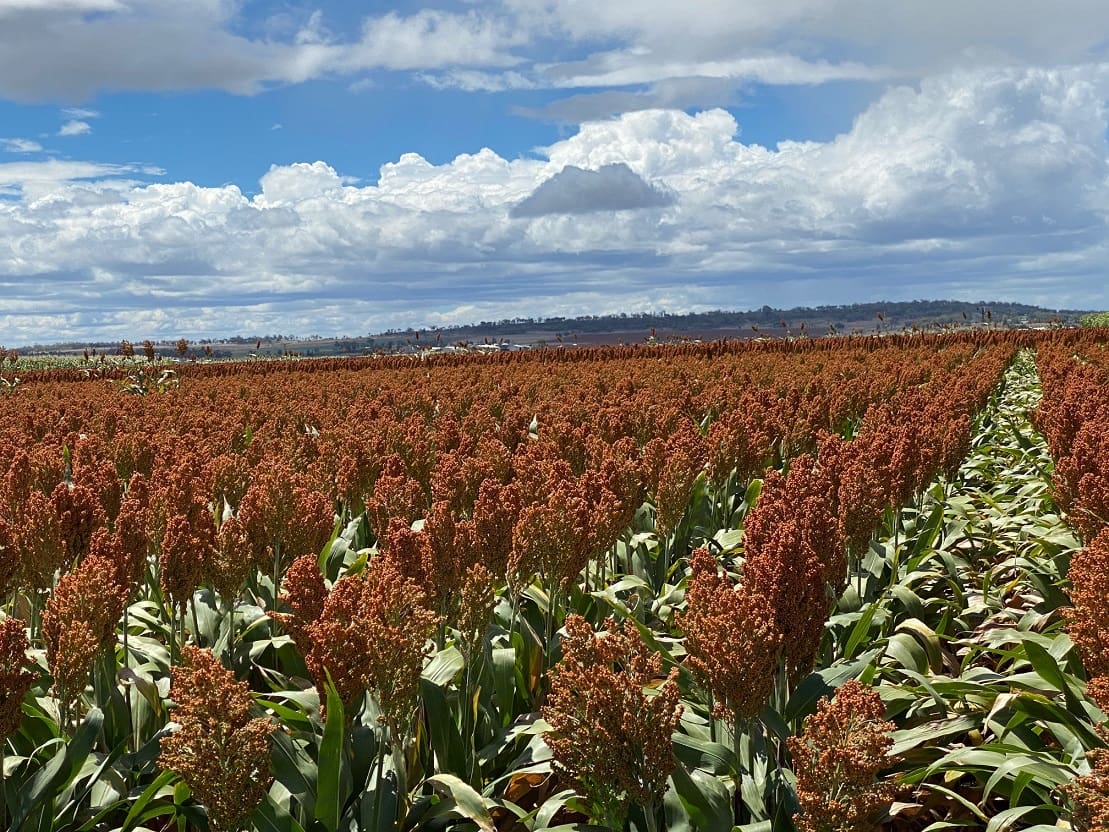 High dryland yields on LP
On the Liverpool Plains in New South Wales where there were few early sorghum plantings due to a big winter crop coming off late, the emphasis on later sown crops has worked out well.
Mr Philp said there was potential for some dryland yields to be up to 10t/ha, particularly on the southern end of the Plains.
However, he said there had been some damage from mice which had been much worse on the Liverpool Plains than on the Darling Downs with some growers spreading bait up to three or four times.
Late-sown success in north west
In north west NSW around Moree and Narrabri where there was not a large area of sorghum sown, B&W Rural manager, Peter Birch, said early crops had done it tough while later crops were faring much better.
"The early sorghum which we had an opportunity to sow in early September flowered and booted at the wrong time when we got a heatwave. So, it is disappointing," he said.
"The crops that were sown later on storms got better and better. There are some handy crops that aren't harvested yet, but will be defoliated soon.
"A lot of the early crops were lucky to make 2t/ha and a lot had screenings. The later crops are getting up to 4t/ha and better."
Grain Central: Get our free cropping news straight to your inbox – Click here