TWENTY-NINE commercial and pre-release lucerne varieties have been put to the test under modified irrigation management systems in trials funded by AgriFutures Australia and Lucerne Australia.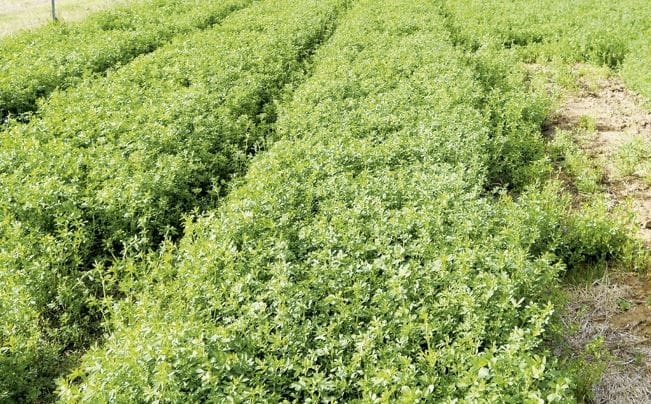 The trials showed a significant boost in seed yield when a delay in irrigation increased plant stress.
AgriFutures Australia manager – research, Annelies McGaw, said the trials run by Lucerne Australia at Keith in South Australia provided all-important data for lucerne grown under Australian conditions.
"The trials provide vital and scientifically-rigorous information for Australian lucerne seed producers," Ms McGaw said.
"It builds on a previous variety trial funded by AgriFutures Pasture Seeds Program which shows imported genetics have generally struggled to produce consistent seed yield under Australian conditions."
AgriFutures Australia pasture seeds program advisory panel chair, Lisa Anderson, said the research produced clear benefits to industry.
"For more than 40 years lucerne has been an important pastures species in Australia and Australian lucerne seed producers now better understand the impact of their watering strategies on yield."
The trials were run at Simon Allen's Warrawee Park, south of Keith, with seed supplied by Alforex Seeds, Heritage Seeds, Naracoorte Seeds, Pasture Genetics, PGG Wrightson Seeds, Seed Force, S&W Seed Co, and Upper Murray Seeds.
Heritage 10 and SW18NPK91 were consistently the highest yielding seed varieties across all three watering strategies.
Lucerne Australia chair, Josh Rasheed, said the results reflected seed harvest from March this year and the executive committee was keen to see how the trial progressed.
"These early results are a summary of the first-year seed production from a seedling crop so, while we are confident with the statistical information, data should be read with that in mind," Mr Rasheed said.
"We look forward to having data from the mature crop over the next two years.
"Delaying irrigation timings statistically increased seed yield. Under the trial conditions a 14 per cent seed yield increase was observed across the moderate watering strategy.
"The high and moderate stress watering strategies respectively had 11.5pc and 14.4pc higher yields when compared to the standard watering strategy."
The highest yielding varieties for the high stress watering strategy were Heritage 10, SFR27-032, Silverland (D5), AR245, SW18NPK91 and SW18NPK92 which yielded between 0.652 tonnes/hectare and 0.721t/ha.
SW18NPK91 and Heritage 10 were the highest yielding varieties across the moderate stress watering strategy with clean seed weights of 0.789t/ha and 0.783t/ha respectively.
The highest yielding varieties across the standard watering strategy were SW18NPK91, SW18NPK92 and Heritage 10 with clean seed weights between 0.673t/ha and 0.726t/ha.
Source: AgriFutures
Read the full year one seed production report prepared by Lucerne Australia here