MUNGBEAN crops are starting to do it tough as a long dry spell, compounded by a scorching heatwave gripping the northern growing regions of eastern Australia this week, take their toll.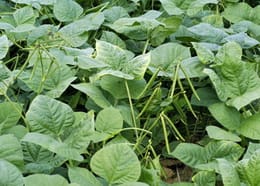 Pulse Australia industry development manager, Paul McIntosh, said the growing season had been less than ideal for spring-planted mungbeans because of cold conditions in the initial stages through September into October, followed by extremely dry and hot weather.
Mr McIntosh said it was surprising how some crops that hadn't been under any storm rains were hanging on despite the conditions.
"There is no reason why some of the spring crops I have seen should be alive. They are still trying to put out flowers," he said.
"The mungbean plant is a lot tougher than you think. It is quite remarkable what they have lived through and that they have put out flowers and pods, but there is just no moisture in their root zones."
Mr McIntosh said rain – and lots of it – was desperately needed to revive spring-sown crops and provide an opportunity for growers to plant late-season mung beans.
"It is getting to the stage where any rain we get has to penetrate. Two inches may not cut it. If you have come through the dry, hot, windy time in the last two or three months with no rain, it will need inches of rain and every bit has to go in," he said.
"We have the crop, we have the seed, we have the good prices, but we need the rain now. Then in three weeks' time we need another couple of inches. One good fall of planting rain does not grow a good crop.
"There will still be opportunities for mungbeans to go in from the Riverina to the Gulf country in January and February. There is still time, but we need rain badly for a planting occasion."
On the Darling Downs, Landmark agronomist, Hugh Reardon-Smith, said mungbean plantings were significantly down on last year and crop performance was "patchy", depending on where storm rains had fallen.
"In our area, last year was a big year, but it is probably only a quarter of last year's crop if that. And it is only 50 per cent of what it should be," he said.
"The crops that are up are going nicely because they were in the areas where people got a lot of rain. But, there are a lot of people wanting to plant mungbeans who haven't been able to. Too many paddocks have dry patches. There are wet areas and dry patches."
Mr Reardon-Smith said there was still a window of opportunity to plant late mungbeans if sowing rains arrived in coming weeks.
"You can plant mungbeans fairly late. It is all about when you think the first frost will be to do damage. People will plant up until the last week of January, some might even go into early February."
Mr Reardon-Smith said some growers had already decided to bypass mungbeans this season and opt to plant a winter crop of chickpeas later because projected prices for next season's chickpeas offered a potentially high return.