INCITEC Pivot Fertilisers' (IPF) soil analysis laboratory, Nutrient Advantage, has today launched a new soil health package that will enable farmers to benchmark and improve the health and productivity of their soil.
The package provides a snapshot of the key biological, chemical and physical characteristics that determine soil health.
IPF president, Stephan Titze, said the company was excited to launch the new test package, which will give farmers a precise objective analysis and the industry leading agronomic advice they need to build healthier soils.
"The package will allow agronomists, farmers and consultants to benchmark their soil and implement practices to create more productive and profitable paddocks that are resilient and perform better, no matter the season," Mr Titze said.
"Changes to soil health happen gradually and cumulatively, which is why a better understanding of soil health through scientifically verified soil testing is critical to our ability to keep farming well into the future."
National strategy
This announcement comes just months after the 2021-22 Federal Budget committed $196.9 million in new funding over four years to implement the National Soil Strategy with the aim of boosting the health and management of Australian soil.
"A key component of the National Soil Strategy is the National Soil Monitoring and Incentives Pilot, designed to ensure farmers have the information they need to manage their soil and improve their productivity and profitability, and this testing package supports that objective," Mr Titze said.
"Using data to improve soil health and environmental outcomes is a logical and necessary trend that will support a robust agriculture sector well into the future.
"IPF is committed to providing its customers with market leading products and services that improve soil health and lead to better and more sustainable plant nutrition for Australian farmers."
Simple tests
The soil health package contains four test components:
total carbon and nitrogen and C:N ratio;
aggregate slaking and dispersion;
active (labile) carbon;
microbial respiration (activity estimation).
It is recommended the tests be repeated every two to three years at the same time of year.
IPF senior agronomist, Jim Laycock, who has been instrumental in the development of the new soil health test package, said the ability to measure and monitor the soil's key biological, chemical and physical characteristics was essential to understanding and improving soil health.
"These four quite simple tests, when taken together, can yield very useful insights that can be addressed in both the short term and over time, in the long term as well," he said.
With soil health being linked to total nitrogen, total carbon and active carbon levels, these tests can alert farmers to shortcomings in their overall soil health, prompting practice changes to fix any problem areas.
Long term trial
Mr Laycock has been running IPF's long term trial site near Grenfell in Central West New South Wales since 2007, with recent results showing how inputs and management can impact on soil health over time.
Selected treatments were sampled and compared active carbon, organic carbon (Walkley & Black method) and total nitrogen in soil with just phosphorous applied versus with both phosphorous and nitrogen applied.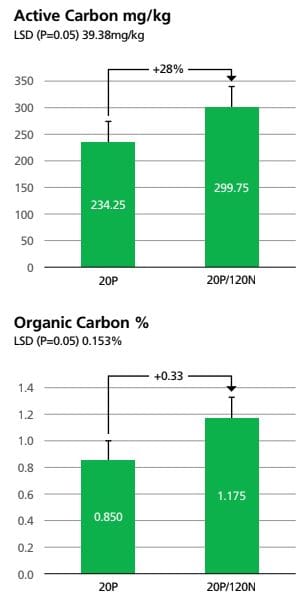 The results show both organic carbon and active carbon levels increased by 28 per cent with the addition of nitrogen.
"Samples with 20 kilograms of phosphorous applied annually returned active carbon levels of 234.5mg/kg," Mr Laycock said.
"Samples with 20kg of phosphorous and 120kg of nitrogen applied annually returned active carbon levels of 299.75mg/kg, so a significant increase.
"While active carbon levels vary greatly across soil and crop types, for the Grenfell site we now have a benchmark for active carbon levels at this point in a long-term cropping rotation.
"From here the aim is to continue with current best practice methods of stubble retention and zero tillage, and monitor changes in active carbon levels over time".
Organic carbon
The trial returned similar results for organic carbon, with organic carbon levels rising from 0.85pc with the application of phosphorous alone to 1.175pc with both phosphorous and nitrogen applied.
A significant increase in total nitrogen was also seen with the application of nitrogen, from 0.09pc to 0.115pc.
"Total nitrogen measures all the nitrogen in the soil, including both inorganic or plant available nitrogen and nitrogen in the form of organic matter that will mineralise into plant available nitrogen over time," Mr Laycock said.
"The higher the total nitrogen levels in the soil profile, the more potential there is for mineral nitrogen cycling. The more nitrogen you can retain, the quicker that soil nitrogen pool builds up and the quicker your organic and active carbon levels also rise.
"The more you can grow, the higher your yields will be but you're also then able to retain greater levels of biomass, and this residue retains and builds carbon and nitrogen levels in your soil. It's a simple equation, but higher nitrogen and carbon levels lead to higher rates of microbial activity, and ultimately healthier soils."
Simple solutions
Mr Laycock said that while soil health and building total carbon in soils was a long-term and wide- ranging pursuit, there are short term practice changes that can help counter particular issues.
"For example, if a test reveals low levels of labile, or active, carbon in soils, that means soil microbes are short on nutrients and nitrogen supply and recycling can be slowed.
"Fortunately, once identified it's relatively easy to increase labile carbon levels within a 12-month period, for instance by implementing a pulse crop into your rotation to boost biomass."
Similarly, the aggregate slaking and dispersion test looks at the response of a soil aggregate to water by identifying sodic and dispersive soils with structural instability, and determining if a soil will slake, set hard or crust when wet.
"Slaking, hard setting and crusting all increase erosion potential and nutrient run off, and reduce air and water movement through soil," Mr Laycock said.
"So, if the soil health package reveals highly dispersible soils, simple agronomic tools like the addition of calcium can be used to correct the issue."
While increasing data on overall soil health is the first step to improving it, Mr Laycock sees the recommendations and guidance that comes with that data as absolutely critical.
"The real value for farmers is in having support around their decision making," he said.
"The Nutrient Advantage soil health package delivers tailored recommendations alongside its laboratory data test results.
"The decision support system is invaluable for growers and farmers as they go about both identifying and then correcting any issues or barriers to soil health, both in the short and long term."
Source: IPF
To find out more, visit www.soilhealthtesting.com.au or call 1800 803 453.