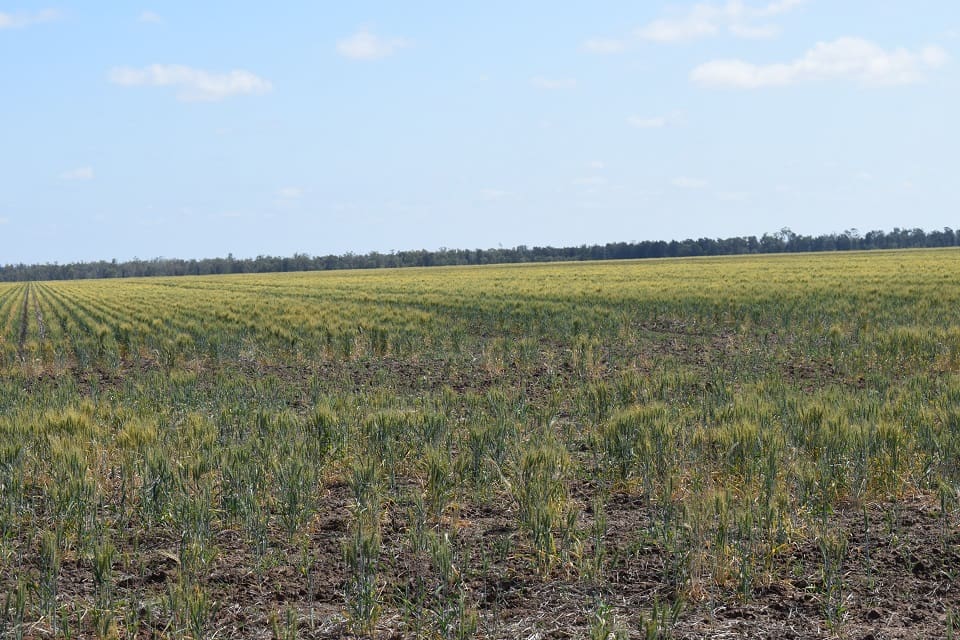 BLUE skies and the long dry have taken their toll on this year's winter crop in the northern farming zone where crops are struggling and only a fraction of the usual plant has gone in.
Except for Central Queensland where crops are advancing and growers are having a reasonable season, the rainfall deficit in southern Queensland and the northern and central regions of New South Wales has kept winter plantings to a minimum.
For those crops that did go in, subsoil moisture levels are running low and significant rain is desperately needed to push them through to harvest.
There is already talk of some crops destined to be cut for hay and fodder.
AgForce Grains president, Brendan Taylor, said the winter cropping story on the Darling Downs was "a sad tale".
"We think only 20 per cent of the total area is planted which is exceptionally low. Out of the 20pc that's planted, realistically there could be only 10pc that's going to make a crop that's worth harvesting unless we get significant rain in the next two to three weeks," he said.
Barley had been the predominant crop planted on the Downs, along with a few chickpeas.
Mr Taylor said despite the severe conditions and shortfall in plantings, there were a few crops that were going okay.
"There is a triangle from Dalby across the Jimbour plain up to Jandowae and back to Chinchilla north of the Warrego Highway where there are some reasonable crops. They had one good fall of rain in June that has established them. They are just breaking head now, but if it doesn't rain in the next three weeks and it gets hot they could go backwards at a rapid rate of knots. It will have to be significant rain otherwise their yield potential will drop dramatically," he said.
Mr Taylor said there were some growers who were weighing up the option of turning poor-performing crops into fodder.
"Even though grain prices are very strong, if there is a reasonable body of feed there the hay market is looking a better option than actually growing it out for grain. There are a few people contemplating that. It goes against the grain of everything we believe in with zero tillage and keeping ground cover, but if there is a good market for hay and more money in that than grain that is what people will probably do," he said.
Mr Taylor said looking forward, the outlook for spring was exceptionally dry and there would need to be significant rains before growers would even contemplate planting a summer crop.
"A lot of people are fertilising now, thinking about going into summer. But we will need a 50-millimetre fall before we even think about planting a summer crop. In some places they will need more than that," he said.
"At the moment a lot of people on the northern Downs have had only 130-150mm for the year, which is half of where we should be year-to-date average. There are some people who have had only 60-70mm for the year. They will need 100-plus millimetres before they even consider planting a summer crop."
In northern NSW, Landmark agronomist at Moree, Garry Onus, said the area was doing it particularly tough.
"There is not much crop in and the ones that are are struggling. There are dry-sown crops that haven't even germinated yet," he said.
"To the east around Croppa Creek and Milguy there are some reasonable crops because they had some earlier rain and the crops established well.
"There are also a few reasonable crops to the west around Collarenebri where they had moisture underneath from 2016, haven't grown a crop since and have had a couple of storms to join the moisture up."
Further south on the Liverpool Plains, consultant, Greg Giblett, said the winter crop area was down about 50 per cent on the usual plantings.
There has been a swing towards barley on the basis that growers were sowing later under limited subsoil moisture conditions, a few late chickpeas had gone in, but there was very little durum wheat.
"Most of the winter crop started with only a 60-70 per cent profile of subsoil moisture. That subsoil water has largely been used. The crops are in reasonable shape, but some crops are showing signs of stress. We need significant rain now, and don't need warm, windy days," he said.