As winter crop sowing enters its final stages across Australia, Grain Central this week provides a State-by-State update on how the planting season has progressed to date. Today: NSW.
…………………………
GROWERS across NSW's northern and central farming regions with young and emerging winter crops struggling under a long dry spell are pinning their hopes on a rain event forecast to pass through the region over the next two days.
The Bureau of Meteorology is predicting falls of up to 10 millimetres across the northern half of the state tomorrow with the rain front contracting to a narrower, more intense strip of the north-west cropping region on Thursday.
NSW Department of Primary Industries (DPI) seasonal conditions coordinator Ian McGowen said rain was urgently needed across most areas of the state because falls in May had been generally less than 60-80 per cent of normal.
"While most of the state received 10-50mm and some areas 50-100mm, rainfall tended to be patchy and variable. The best falls occurred over 18-19 May," Mr McGowen said.
"Isolated areas of the south and north coast and alpine areas received more than 100 mm of rainfall during May.
"Above average rainfall was limited to areas of the south west, Monaro, far south east, western Riverina, northern slopes and plains and the south of the central west."
Mr McGowen said crops sown in April and early May responded to the late May rainfall, ensuring even establishment and early growth.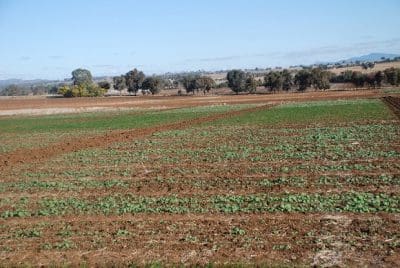 "In many areas, rainfall and soil moisture were insufficient for sowing and good establishment, particularly areas of the north west plains, central west and areas of the eastern and central Riverina. Rainfall is needed in these areas during June, to complete sowing," he said.
"Dry conditions have been problematic for growers for post emergent herbicide application and have limited opportunities to apply nitrogen fertilisers.
"High levels of insect and mite pests have been reported in a number of areas.
"Profiles have continued to dry out into June and follow up rainfall is urgently needed in most areas to ensure the successful germination, establishment and growth of winter crops."
Northern NSW
GrainGrowers regional coordinator for Queensland and northern NSW, Susan McDonnell, said all of the northern cropping region of NSW from the Queensland border to the Liverpool Plains was looking for rain.
"A lot of hopes have been pinned on the next rain event forecast for Wednesday and Thursday this week. Some of the crops that are up aren't very even and need follow up rain to give them a boost. If this rain doesn't come through, it won't be good," she said.
Ms McDonnell said there were some areas where chickpea plantings had not been as high as expected.
"The area south of Coonamble down to Tottenham has tended to go to more canola than expected," she said.
"Further north there is quite a bit of chickpea planted, but if they had had rain a month ago there would be a lot more chickpeas in than we have in at the moment.
"We are already seeing a lot of Ascochyta across the border region and growers are spraying before the next rain event."
In the central west, IMAC agronomist at Forbes, Cameron Corke, said most of the crop was in with an increased area of chickpeas and a reduction in barley, but conditions had been dry.
"We have a good profile of moisture still despite not a lot of rain after sowing. The concern is the ground hasn't firmed up and sealed around the seedlings and we are losing moisture. The crops are looking good and are hanging in, but we want a follow up rain," he said.
Southern NSW
In southern NSW, Landmark agronomist at Cootamundra, Clint Sheather, said the region had had a good opening autumn break but conditions had turned dry since with very little rain in June.
"The crops don't look too bad. It isn't dire straits, but a sprinkle of rain very shortly would be nice," he said.
"They are talking of rain next week, but it is hard when it is a week out as it can fizzle into nothing which has happened two or three times in the last five weeks. We are all holding our breath and not getting too excited.
"If it still looks firm closer to the day, growers will be looking to get some fertiliser out on the canola."
Sowing is finished in the south with an increase in canola plantings this year, driven by attractive prices.
Dry long term outlook
The Bureau of Meteorology's rainfall outlook for June to August indicates drier than normal conditions are likely across most of NSW, with daytime temperatures likely to be warmer than normal.
The seasonal outlooks are being influenced by warmer than normal sea surface temperatures in the tropical Pacific and cooler than normal temperatures in the eastern Indian Ocean.
Higher than average atmospheric pressure across southern Australia has led to fewer cold fronts and low pressure systems.
The Pacific Ocean remains in an ENSO neutral state, with the outlook from most global climate models suggesting neutral conditions continuing into winter and spring.
Some models are still suggesting that a positive or borderline positive Indian Ocean Dipole event may develop during winter or spring. Even a borderline event can result in a reduction in winter and spring rainfall over inland NSW.
Grain Central: Get our free daily cropping news straight to your inbox – Click here