HIGH cattle prices and ideal sowing rains have fired up forage oat plantings in mixed farming regions across Australia as producers look to bolster their stock feed resources for winter.
At the same time, grain growers are underway with milling oat plantings in the key growing areas, although the area is likely to be down on last year due to lower oat grain prices.
Heritage Seeds principal portfolio manager for forage cereals, Steve Amery, Adelaide, said seed sales of forage oats in the past few months indicated sowing activity was likely to be on par with previous strong years.
"Good rain events in late February led to some good seed sales in March, and we have now had the system associated with Cyclone Debbie which has created significant rainfall into central Queensland and down to the Darling Downs and NSW/Queensland border country," he said.
"Cattle prices are still very good and a lot of Queensland has come out of a big chunk of drought-declared regions. So, quick feed is required. That is where the forage cereals really have a good fit."
Ideal start for forage oats
Elders agronomist at Dalby on the Darling Downs, Jordan McDonald, said the recent rain had come at a perfect time for planting oats.
"A fair bit of oats has gone in on the rain they had a few weeks back. With cattle prices the way they are, oats have been very popular this year," he said.
In northern NSW, McGregor Gourlay Agricultural Services agronomist, Andrew Morelli, Inverell, said growers across the slopes and tablelands were busy putting in a significant area of oats.
"The cattle prices are driving that and the seasonal conditions. We have probably had the best start to autumn we have ever had. We have had 10 inches (250mm) of rain in the last eight weeks," he said.
"Oats have been going in since the end of February and there is a lot still to go in. People like to get it in in early March so they can be grazing it in the early winter, but this year it will be pushed back a bit. There will be some grain and hay crops go in later, but at this stage it is all for forage."
Quieter year for milling oats
Meanwhile, milling oat plantings are underway in the key production areas of WA, southern NSW, Victoria and south-eastern South Australia.
In WA where the industry has been expanding on the back of new processing infrastructure development and growing demand from human consumption markets, particularly Asia, the state produced 766,000 tonnes of oats last year.
But, Grain Trade Australia (GTA) director and Grain Link managing director, Andrew Goyder, said he was expecting a reduced area to go in this season because of the depressed price for oats.
"We are looking at $140 to $150/tonne for Milling 1 oats here at the moment. That is down from a high of over $300/t last year which is why so much oats went in the ground then," he said.
"I'd anticipate the oat acreage will be down quite substantially this year. That is price driven more than anything.
"There was a lot of hay produced last year and there is a lot of forage hay around because of the frosts last year. And I think there is quite a bit of oats left on farm and in the CBH system that is still unsold at the moment.
"But in saying that, given the large area of WA that was affected by frost last year, oats is reasonably tolerant to frost and people will consider that."
Grain Central: Get our free daily cropping news straight to your inbox – Click here
Heritage Seeds' Steve Amery warned growers buying PBR-protected varieties from other growers that it breached PBR (plant breeder's rights) and was technically against the law.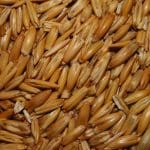 "The concern is that when growers do that they can't be sure about what they are buying. You don't know if you are getting genetically pure product, you don't know how it is going to produce, you don't know if there are weed concerns or other concerns about seed vigour and quality," he said.
"That is something that has impacted sales and, as an industry, we are all concerned about the amount of this activity that is going on.
"The important part of breaches to PBR is that, when growers do that, there is no royalty return that goes back to the breeding organisations.
"If the breeding organisations can't get an ongoing return for the work they do and the time and money they invest in the program, it essentially means the likelihood of getting new and better varieties into the marketplace is severely hampered."