INCREASED options and last year's record yields across the Australian grainbelt have prompted an upswing in grower orders for on-farm storage units and systems.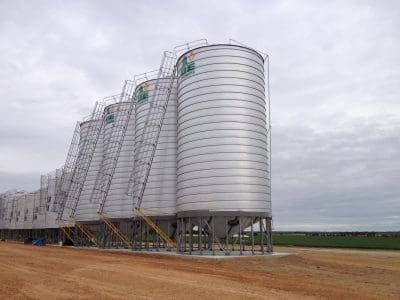 Perth's DE Engineering principal, Kevin Prater, said the arrival of grain exporters other than CBH, which also owns Western Australia's bulk-handling network, had spurred many growers into investing in on-farm storage.
"The first year out of drought no-one spends money on on-farm storage, the second year restores people's confidence, and by the third year, you get a sale; that's where we're up to," Mr Prater said.
"It's the biggest turnover year ever for us."
He said CBH's competitors in the export market were unable to store all they needed to fill vessels at port, and growers were increasingly keen to install silos which have previously had little use in a state with a limited domestic market for stockfeed and processing.
"Now there is potential for guys to market their own grain, and that's why we've got so much interest in the 152t single silo we came out with last year."
"That's as big as we can make go if we want to put it on the back of a truck; we sold 25 last year and we've got 25 on order now."
Mr Prater said one of these silos could fill three road trains, and allowed growers to supply the post-harvest slot which sometimes brought attractive premiums.
"If growers can lock in for delivery between March and June, and get a premium of say $40/t on 1,000 tonnes, that's where storage comes into its own."
"We've got a guy we delivered eight 150t silos to, and he's just ordered 18 more. I'm not surprised; you can make another 20 per cent on your grain if you market it right and handle it yourself."
DE Engineering also sells a seed cleaner, which Mr Prater said a number of growers were investing in to minimise discounts incurred at bulk-handling sites.
"A lot of the WA crop last year was frosted, and if you run it through the seed cleaner, you might take 40 per cent seconds out, which means you're getting docked for quality on less than half your crop instead of the whole lot.
Kotzur manufacturing silos at Walla Walla in southern NSW, and conveying equipment at Toowoomba in Queensland, and its rural sales manager, John Bickerton, said the company had seen a big upswing this year and last year from growers investing in on-farm storage.
"We've got sales on from Central Queensland to South Australia and Western Australia," Mr Bickerton said.
"One of the drivers for that has been that most areas had a reasonable or a very good crop; usually some areas miss out. That didn't happen last year."
Mr Bickerton said a lot of demand was coming from pulse growers, who were becoming more proficient at marketing their crops.
"Expansion in those crops is outweighing storage capacity, even when you include processors who pack and export."
Storage specialists
Mr Bickerton said the grain industry in eastern states was benefitting from the work done by grain storage specialists like Peter Botta in NSW and Grains Research and Development Corporation (GRDC) stored grain agronomist, Philip Burrill in encouraging growers to invest in storages which could be sealed for fumigation, and aerated for temperature and moisture control.
"They've done a terrific job in getting growers to be able to handle insect infestations, or store over- moist grain if they need to.
"That means if rain is forecast, the grower can harvest at moisture levels which exceed receival limits, and dry grain in their silo rather than leaving it in the paddock and risking big discounts for downgrades for weather damage."
Mr Bickerton said he believed most growers would continue the trend of marketing a chunk of their grain at harvest, but said a number were keen to get to the point where they could store their entire harvest on farm.
"We are selling units from a 50-tonne silo to a total turnkey project with a 10,000t capacity and bucket elevators."
Mr Bickerton said silo manufacturers like Kotzur were keen to encourage growers to think ahead, and look at factors like soil types and all-weather access for a set-up which was likely to expand.
"No matter what someone's doing today, it's important to ask whether it will meet their needs in 10 years' time if they do expand their storage."
Mr Bickerton said unpleasant experiences, like selling into a depressed cash market, or missing price spikes because your grain was already committed, had encouraged some growers to invest in on-farm storage.
"You won't always get you a premium, but if you can store some of what you grow, your chances of getting one certainly increase."
Victorian experience
Victorian grower, Travis Penny, is part of a Mallee and Wimmera-district family farming operation based at Warracknabeal which in recent years has installed 6,000t of storage in four flat-bottomed Kotzur units.
"Our long-term plan is to put more in so we can hang on to our lower-value stuff at harvest," Mr Penny said.
The 2016 harvest saw the Pennys sell all their canola and most of their lentils at harvest, and store all their wheat and barley with the idea of selling cereals on spikes in the market.
"When prices are near enough to rock bottom, it's a no-brainer to store it."
He said two bulk-handling depots located near the Penny farm, as well as a domestic end-user, give them off-farm options.
"There's still a cost to on farm storage, but it helps us with our prices, and it gives us flexibility if the local receivals are closed, or not taking what we've got."
Big picture
Mr Burrill said the decreased number of grain depots in regional production had meant longer delays for delivering at harvest, and this had also encouraged investment in on-farm storage.
"The strong trend is to increase on-farm storage to provide the grower with increased efficiencies at harvest time, and advantages from more control over marketing their own grain."
"Efficient harvest logistics is a very big driver for growers to increase their on-farm storage capacity."
Mr Burrill said on-farm storage also gave growers the ability to segregate and blend to quality parameters set by the grain buyer.
"Many growers are happy to deal directly with both domestic grain buyers and traders accumulating parcels for export.
"By doing so, there are clear lines of communication between the grower and grain buyer, which assists with appropriate on-farm grain-quality segregation."